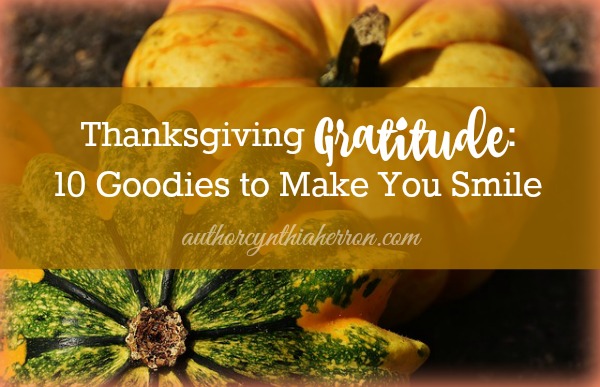 Ahh… Thanksgiving.
The time of year when scents of roast turkey and pumpkin pie beckon. The season we give thanks and express gratitude for blessings and good things.
As a child, I'm pretty sure the bounty enthralled more than other blessings.
When we're kids, it's difficult to see beyond immediate gratification, especially, when tantalizing aromas entice and appeal.
As we enter adulthood, though, while we still savor all the deliciousness, we come to see Thanksgiving in a new light. We think beyond the turkey, pie, and ballgames, and appreciate other things, too.
Hearth and home. Family. Good health. God's provision.  All those things we sometimes take for granted in the hectic days we know as life.
For some, maybe this season of gratitude doesn't come easily. Maybe it's a poignant reminder of fresh heartache or withered dreams.  Maybe it's awareness of challenges met and, perhaps, more to follow.
Whatever juncture you're at, today's thoughts are for you…
10 Goodies to Make You Smile
1. Think Beyond the Bad to Focus on the Good. Seek out good stuff when bad news threatens.
2. Revisit Hope. Embrace possibility by way of blessings. Listen to what kids teach you.
3. Success… Is It Too Late? Age is relative. Go for your goals!
4. Four Reasons to Take the High Road. Say more by saying less. Here's how.
5. Love Better. Five insights to give you perspective.
6. Grab Hope. The Polly Perfect persona is a fallacy. Don't buy into it. The pep talk you need today.
7. From China to the Ozarks: A Girl, A Dream, and Sweet Sixteen. Take a stroll down Memory Lane as we celebrate a special birthday.
8. You're a Winner Wednesday. A winning mindset isn't always easy. Five key ways to think like a winner!
9. Read The Waiting (The book that will leave you breathless. You'll love it!) The true story of an eighty-year miracle in the making and the resilient woman who never gave up.
10. Be a Joy-Bearer. Top 10 ways you can pay it forward. (My most popular blog post of all time!)
***
And one more gratitude goodie to grow on…
The Most Delicious Cranberry Recipe EVER
via Aaron McCargo, Jr. (for Food Network)
CINNAMON APPLE CRANBERRY SAUCE
2 cups cranberry juice
1 (6 ounce) bag dried cranberries
1 cinnamon stick (broken in half) *We used 1/2 tsp ground cinnamon
1 cup sugar
2 Gala apples, peeled, cored and diced
2 tsps cornstarch
*Yield: 12 servings
Refrigerate overnight for the fullest flavor.
This cranberry sauce is so utterly delish that we're doubling the batch this year!
Follow the recipe directions here. Heat until simmering…
Careful not to splash. This mixture will be hot.
Remember, the full recipe and directions can be found here. Enjoy!
Darling daughter made this cranberry sauce at Christmas last year, and it was a big hit. It goes great with ham or turkey. Your family will love it!
Oh, and FYI my newsletter subscribers saw this first (in my January 2017 issue). I'd love to have you join us for next month's fun. Sign up here or over in the sidebar. Be sure and click on the confirmation link that will arrive in your inbox, as that confirms your monthly e-newsletter subscription.
Welcome aboard!
***
SHARE THE LOVE
Need a smile? 10 Inspiring thoughts to kick-start your holiday!
Original Image Credit (pumpkins): Alexas_Foto/Pixabay
Gratitude roll call! What are you thankful for today?
What makes you smile?
***
To you and yours…
Happy Thanksgiving!
Much Love and Many Blessings,