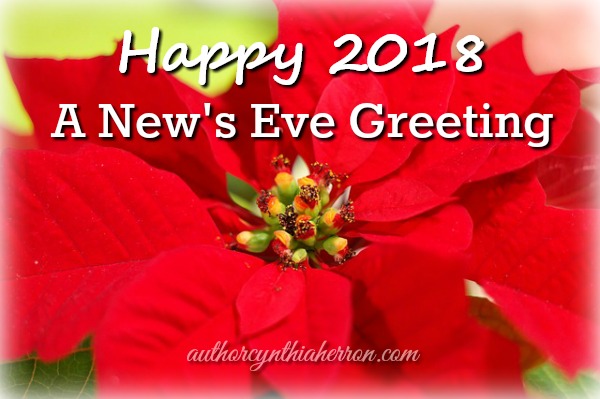 Greetings Friend ~
Happy New Year's Eve!
As 2017 draws to a close, I wanted to take a moment to share a few thoughts.
Can you believe the new year is but a breath away? How is it even possible that 2018 arrives tomorrow?
It's so true the older we get, the years seem to fly by a little faster. One season melds into the next with barely a pause in between. We're so busy "doing life" we may not fully appreciate our blessings at hand. We cram our plates with too much "stuff" and then…we reach for seconds! We wonder why our stomachs roll at the next thing on our to-do list.
Of course, today's world would have us believe this is normal. Everyone runs at a breakneck pace. If we want to reach a goal, meet a deadline, or keep up with the Joneses, we mustn't rest because resting's for wimps. Only sluggards take time off or step away from day-to-day demands.
Well, here's what I call that. Insanity.
See? I didn't dress it up and tie it with a bow. I tackled that elephant head-on.
Because, let's be honest. There's nothing pretty about driving ourselves crazy for the sake of the big win.
Naturally, we'll always have obligations and things that won't wait.
But here's the rub.
So often, some (many) things we think we must do are simply perceived expectations or burdens we place upon ourselves. They aren't do-or-die, carved in stone mandates that will make or break us.
Balance is crucial, as is time-management. (Check out those posts if you struggle with either.)
Last year, I determined to do things differently.
I examined ways I could increase productivity as I made changes in other areas of my life. Meaning, I didn't take on more. I did more with less.
I decreased blogging and scaled back social media.
I said no thank you and I'd like to, but I'm afraid I'll have to pass.
I gave myself permission to stand down and not feel guilty.
I dug deeper in my writing and owned it.
I approached old habits with a new mindset.
Yes, these were things I'd done in recent years, but in 2017 I resolved to go a step further.
Again, I made hard choices.
I eliminated time-sucks.
I forged new relationships.
I emptied my life of hollow, pointless tasks that really had no bearing in the light of eternity. If it wasn't life or death, and if it caused resentment or killed my energy, I tossed it.
I'm being intentionally vague here, but those who know me well understand what I'm referencing.
God and family mean the world to me.
Serving others. Loving, Encouraging. Writing. Those things matter, too. And somewhere in the middle of all that, I need to squeeze in self-care and me-time. Because, yes. That's not selfish. It's smart.
Not heeding God's wisdom isn't smart.
So friend, be smart.
Today, if you're riding the fence about future goals and direction, let me assure you—you can take charge. You can choose a different path. You can reinvent the wheel.
How?
In a nutshell: by discarding the non-edifying junk.
Don't gauge what you think you should do because others do it that way.
Don't cave to self-comparison.
Don't chase after someone else's dream, while forfeiting your own.
Recognize God gave you strengths and abilities that are unique to you.
In this new year, in 2018, rise above the noise, naysayers, and stuff that holds you hostage.
Throw another match on your fire.
Fan those embers of hope.
Feel the heat.
Don't just watch.
Grab your fireproof duds.
Step into the flame.
Victory awaits.
***
PLEASE SHARE THE LOVE
Overwhelmed? In this new year, tackle your elephant head-on. Here's why.
Eliminate time-sucks and make hard choices. How you can reinvent the wheel in 2018!
MOTIVATION MUST-READS
Age is relative. Why you should pursue your goals now.
A Dose of Truth for the Weary Writer
Blaze old trails with new ideas. Encouragement for exhausted writers.
Exhausted? Buckle Up. Spring Is Coming!
Raw, vulnerable, four-part series about life-seasons and rites of passage.
Original Image Credit: Hans/Pixabay
***
Ah, dear friend…thanks for joining me today. Thanks for reading, following, and commenting in the past year. (Speaking of which, we've had some comment snafus on the blog lately. My website team is aware of the issue, and I appreciate your patience! Please continue to e-mail me with your thoughts and comments. I greatly appreciate them all!)
It's a bone-chilling New Year's Eve in the Ozarks, but the coffee's on and I'm sending warm thoughts and big hugs your way.
Now, just a few reminders—
Newsletters go out soon! And trust me, you don't want to miss one encouragement-packed issue.
Not a member of my newsletter family? Let's remedy that. Sign up here or over in the sidebar. Follow the easy prompts. Get ready for some lovin'!
Also, next week I'll do my one-word reveal so do watch for that. This was last year's. I think I nailed it! 😉
Catch me at the WordServe Water Cooler on Tuesday, January 16th, where we'll dish about two of my favorite things: writers and joy!
Oh, and if you have time for a movie? My vote: The Greatest Showman. Stellar movie. Powerful message. LOVED it.
Until next time…
Happy New Year!
Much Love and Many Blessings,