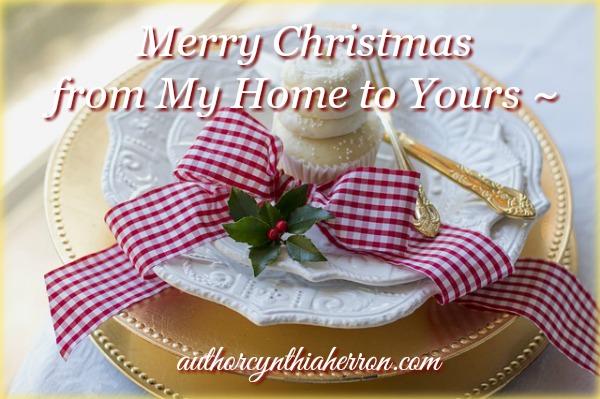 Three days until Christmas.
Three days.
How is it that the holiday's almost here?
Maybe you're like me—so immersed in the busyness of the season that time's slipped by quickly, leaving a trail of (happy) exhaustion in its wake.
Over our way, we've shopped, baked, and visited. We've watched movies. We've viewed pretty lights and attended holiday musicals.
We've soaked up family time and reveled in togetherness. Despite all the to-dos, we've delighted in this Christmas season and all that it brings.
May we never get too busy to celebrate the birth of Jesus!
Today, as we continue to prepare our hearts and homes for Christmas, I hope we'll pause and remember the One whose birth changed everything.
I hope we'll seek a kinder, gentler approach in our interactions with others.
I hope we'll love madly, despite differences, and I hope we'll take the high road more often.
You've seen a little less of me on the blog this past year as I concentrate on my novels, but I want you to know, my friend, I appreciate you stopping by. I value your input, e-mails, and encouragement as I continue to navigate this winding path.
The writing journey's a tough one and I couldn't do it without you. Your faithfulness and support mean the world to me. Thank you!
Now, I might mention that although I've stepped back from blogging as much, I'd love to connect with you on Facebook. I usually post something (or check in) every day. If you leave a comment there, I'll always try to comment back. (Be sure and watch today's Christmas video. It takes less than 60 seconds and I think it'll give you that warm fuzzy Christmas-y feeling.)
And, of course, for more fun, love, and encouragement, don't forget to sign up for my monthly e-newsletters. My newsletter family is privy to insider info I don't always share here on the blog. In my newsletters, I offer slice-of-life vignettes, writing snippets, Ozarks trivia, and occasional recipes. In other words—fun stuff! And for newsletter subscribers only, I offer a monthly drawing for great prizes and gift cards.
As we wind down for the weekend and enter full-blown Christmas count-down, I'll leave you with a few of my favorite thoughts. Enjoy and Merry Christmas!
***
PLEASE SHARE
Happy Weekend and Merry Christmas from My Home to Yours!
Original Image Credit: TerriC/Pixabay
How do you prepare your heart for the holidays?
***
See you back soon!
Much Love and Many Blessings,