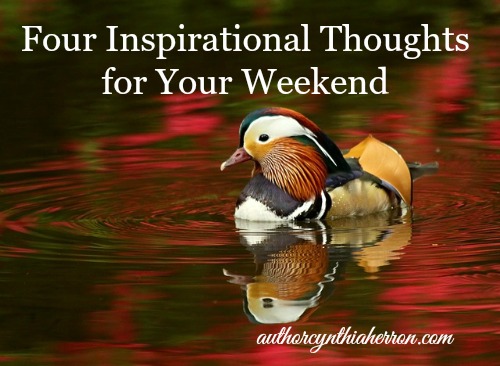 Life in the Ozarks this time of year is a delicate balance of give and take.
We're well into spring, and with it comes a welcomed respite from the weariness of winter. (Say that one fast. 🙂 )
While the warmer temperatures are wonderful, the mornings are still cool enough for jackets. We relish the sunshine and warmth, but we know, too, that our weather here can change on a dime. Of course, living in Tornado Alley, we've come to expect this. (Though we still don't like it.)
We're in a flurry of activity over our way. You may remember—this is our daughter's senior year in high school. Things continue to race by at lightning speed. Choir trips, class projects, NHS activities, and college prep. (Whew!) I'm ready for some downtime. 🙂
I hope your week's been sun-filled and blessing-packed and that you're able to rest and unwind for a while.
Here are four inspirational thoughts to kick off your weekend:
Has it Been One of THOSE Weeks? Three Ways to Change That
A Writer's Gardening Guide for Surviving and Thriving: Five Practical Tips
When You're Drowning in Dandelions… Laugh!
From China to the Ozarks: A Girl, A Dream, and Sweet Sixteen
Need one more to chill by? Try this.
Downtime Dillydallying: 15 Tips for a Stress-free Weekend
Now… Kick back and enjoy! See you back next week.
***
PLEASE SHARE THE LOVE
Inspiration for your day. Four Friday feel goods!
Original Image Credit: gregseed/Pixabay
What inspired YOU this week?
—
As always, thanks for stopping by! I'm delighted you visited.
Much Love and Many Blessings,