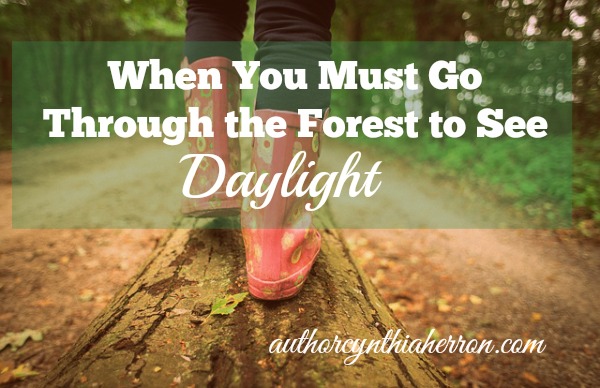 As a little girl, I was afraid of the dark. It's still not one of my favorite things, but over the years, I've learned to adjust. (Aren't nightlights wonderful?)
I was thinking about "the dark" again recently and how fear, tension, and negativity affect our mindset and self-esteem.
People who live in the dark sometimes do so willingly. Maybe it's a subconscious thought at first—a temporary fix to avoid what daylight has to offer.
They choose fear over freedom.
Tension over tranquility.
Negativity, not new beginnings.
Scaredy cats tiptoe lightly around the perimeters of life because it feels safe there.
They trade visions of greatness for capes of complacency. As others seek light and experience joy, naysayers trudge deeper into the forest hoping the ugly goblins won't get them, but fully expecting them to.
And that's how the enemy works.
He plays with our minds.
He wrecks our resolve.
He deceives with darkness.
He convinces us we can't, we won't, or we shouldn't. He wounds our spirit. He clouds our judgment.
Our beautiful niece Erin* knows a little something about living in the dark. Legally blind since birth, Erin lived her first six years in a world of distorted shapes and shadows. Worse—because of the circumstance, those days robbed Erin of time. That early—and oh so critical—period necessary if visual improvement's to be gained.
Living in the forest wasn't our niece's choice, but ever the optimist, she learned to compensate. She remained hopeful, resilient, and determined.
Was Erin scared? Yes.
Did she think about giving up? Maybe.
Did she choose to live in darkness? No way!
That kid not only plowed through the forest, she chopped down a few metaphorical trees, too. She thought in color and painted her world. She visualized daylight and rebuffed the darkness. (Read more of Erin's story here.)
Here's the rub.
Clouds are always going to roll by and distort our vision. There'll be days where the cold, dark forest holds greater appeal than the golden warmth of the sunlit field. ("Greater appeal," as in it's the best we can do at the moment.)
For instance, try telling the mama whose child is struggling to survive her next round of chemo "Now, just stay upbeat."
Or try saying this to the 20 year employee who's suddenly downsized: "It will all work out."
And perhaps, this will motivate the young mother in church whose husband just left. "It could be worse. Think positive."
What we should realize:
In life there will be elephant-sized detours, dilemmas, heartbreak, and problems of earth-shaking magnitude. Staying upbeat will be the farthest thing from our minds. It'll take every ounce of resolve we have not to hunker down in the forest. Sometimes, it'll take supernatural intervention and a God-sized miracle!
When encountering those in the forest recognize that, for them, the issue is very real. Downplaying the situation doesn't endear. It alienates and causes resentment. When our son struggled with a life-threatening health condition years ago, patronizing comments fell on deaf ears. On the other hand, words of sincere empathy and positivity resonated and warmed our hearts.
Praise and encouragement carry weight. They influence the bleakest of outcomes. When our niece relocated to the states, her parents sought the best surgeons, and with their help developed a (realistic) treatment plan. While Erin's vision would never be fully restored, it was made better. This won't work became let's try it and see. Experts didn't extend platitudes. They offered viable options. And they did it with sensitivity and kindness.
Forests exist for a reason, but we shouldn't camp out in them. Lingering temporarily while we wallow in the crud of life is realistic. It's human. Remaining in the dank, dark woods for very long, though, isn't God's best for us. Forests are lonely.
If you're experiencing a forest kind of season in life just now, you may feel like you're in pause mode. You may think you're never going to find sunlight again because the forest seems so dark. The underbrush is thick, and the trees are far too many.
But can I tell you something?
These are the forests that are precursors to daylight. These are the times when God works best—when he blows supernatural life into our battered, broken spirit and prepares us for our next season—the brighter journey. The one we'll welcome as we invite others along.
"And the God of all grace, who called you to His eternal glory in Christ, after you have suffered a little while, will himself restore you and make you strong, firm, and steadfast. To Him be the power for ever and ever. Amen." (1 Peter 5:10-11 NIV)
Indeed.
***
*For privacy, not my niece's real name
PLEASE SHARE THE ENCOURAGEMENT
Stuck in the forest? No worries! You're almost done there.
Discouragement's real. Crud is a given. But your forest is temporary. Here's why.
Slip on your sunglasses. Fold up your tent. Daylight's coming.
MORE ENCOURAGING THOUGHTS
The get real message YOU need to hear.
The simple solution to the world's anger problem—one positive thought at a time.
How to react when naysayers come calling.
Original Image Credit: Skitterphoto/Pixabay
Have you lingered in the forest? How did you overcome that season?
What did you learn from your experience?
***
Wow! Great to be back with you today!
If you're a member of my newsletter family, I hope you've checked your inboxes. TONS of great content this month and an update on some upcoming tweaks for 2017. If you're not a newsletter subscriber yet, please accept this heartfelt invitation—> I'd be delighted to have you join me each month as we love, encourage, and cheer each other on. I will not spam you, bug you, or overburden you with junk. My newsletter subscribers receive one newsletter each month, and if you sign up for my blog updates you'll get those every W/F.
Sign up for my newsletters and blog updates over in the right-hand sidebar. And… Welcome to the family!
Much Love and Many Blessings,