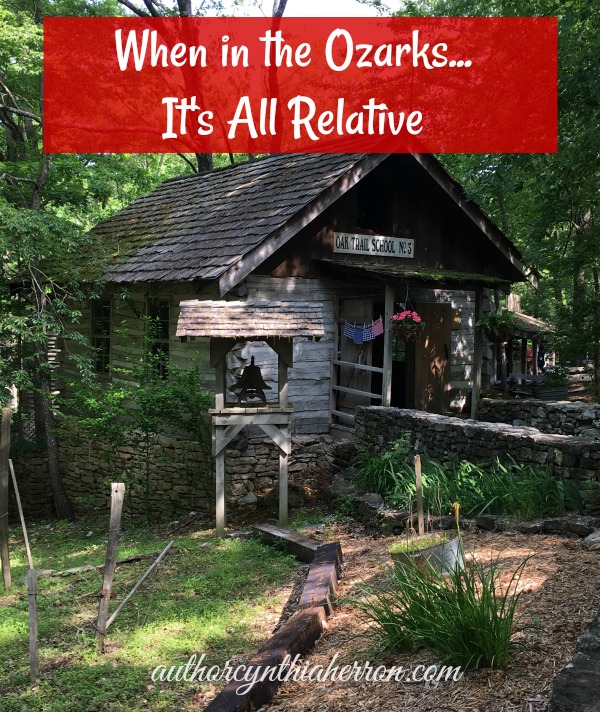 Here in the Ozarks we're blessed.
Ours is a slower-paced way of life, though, that doesn't mean we're entirely immune to busyness. We simply approach it a little differently, and perhaps, on our own terms. Say, after three cups of coffee and a  morning chat with Neighbor Nelly or Preacher Bill.
Some folks resist change and cling to old ways and tradition while others accept change more easily in the name of "progress."
Generally speaking, we're a good-natured lot. We have a penchant for a great story (telling or listening), and most of us have never met a stranger. Meaning—don't be surprised when we wave, nod, or speak to you on the sidewalk before we've officially met. If we do any of those three, that means we've met and it's official. Now, we're friends.
And something else you should know when you visit the Ozarks—it's all relative.
One person's perception is another person's truth. Likewise, if you abhor our summertime heat and humidity, talk to an old-timer and he's likely to say it's the best thing since sliced bread.
I, for one, do not like the humidity unless I'm near a big body of water, preferably on The Gulf with a tall, cold sweet tea in my hand. This born-and-bred Ozarkian gal just wasn't made for conditions that can fry an egg and kink your hair in one fell swoop. I know. Odd, huh? Since I've lived in the Ozarks all my life you'd think I'd be used to it by now but…
At least at the beach you can dip your toes in the waves and catch the ocean breeze, and the pure act of doing so evokes cool. Here in these beautiful (but hot) hills and hollows, unless you live near the lake, summertime means you either adapt or you grin and bear it. I'll give you one guess what I've learned to do.
And I've learned, too, when I mention anything about the heat and humidity to my daddy (a native Georgia boy), his viewpoint about the weather rarely syncs with mine. Daddy's idea of hot is anything beyond one hundred degrees. He loves hot.
"Isn't it great?" he'll say. "This warms my bones."
No kidding, Daddy. It melts mine.
See? All relative. With your relatives. 🙂
But I digress.
Over our way, we're in a new season.
College gal's home for the summer!
You may remember that last year our family spent much of that time caring for my father as he recuperated from a fall.  This summer, we're determined to make up for lost time.
So far, we've enjoyed some wonderful day trips, family gatherings, and tons of good food. College gal's made cookies. We have baby birds about ready to hatch. Our educator son is planning a trip home.
Life is good.
I pray yours is, too.
Grab your cuppa and join me for a few moments…
Silver Dollar City, the family-friendly theme park in Branson, Missouri, is a family fave. Head on over for a visit!
***
PLEASE SHARE
Life, love, and fun. A little of this and that from the Ozarks.
Planning to travel? Add the Ozarks to your destination musts.
What fun summer activities do you have planned?
***
Pssst…
Just a reminder… My June newsletter goes out soon and it's packed with hugs and encouragement. Sign up in the top right sidebar and click on the confirmation link that will come directly to your inbox. That's all there is to it! So happy to have you aboard and welcome to the family!
See you back soon!
Much Love and Many Blessings,