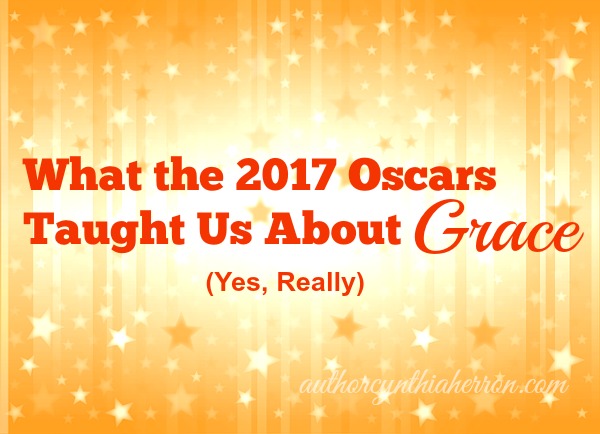 First, let me just say this is not a politically driven post.
There.
Now that we have that out of the way, we can all relax.
*deep breath*
For those who didn't watch the 2017 Oscar debacle unfold, no doubt you heard about it. Of course, I'm talking about the evening's epic fail—the Best Picture mix-up. Or, more specifically, the right Oscar being awarded to the wrong winner.
Yup.
The wrong envelope, the wrong announcement, the wrong winner. Something that, as it occurred, seemed surreal and contrived. A distasteful joke gone—what else? Wrong.
"Oh, my gosh! I can't believe that just happened."
"What?" Hubs entered the room.
We'd decided to head to bed early since the Oscars held little appeal and had for several years.
Don't misunderstand—we love movies and the arts, and of course, we respect the wide range of talent, however, the Academy Awards (show) has become too much hype and innuendo with far too little class. And my heavenly days, don't those folks ever eat? They really need some fried chicken and mashed potatoes and gravy. Maybe some chocolate pie, too.
"Faye Dunaway just announced the wrong Best Picture winner. She said it was La La Land and it's not. It's Moonlight."
"Wow. Bet that's a first."
Turned out it wasn't, but it hadn't happened in decades. The blunder would still make history, but at least it wouldn't take top billing as being the first. And now we know, too, the mix-up wasn't Ms. Dunaway's fault. Warren Beatty, her co-presenter, was handed the incorrect envelope—the envelope with the card announcing Emma Stone as the winner for Best Actress.
The dilemma? Ms. Stone had already been presented her award. Hmm… Who wouldn't be confused? Not Beatty's fault either. The New York Times had this to say. The explanation made sense, but still, chaos ensued. Suits, sequins, tuxes, and fringe blurred our television screen.
Hubs and I watched, transfixed, as pretty people rushed the stage. First, those who thought they won Best Picture. Then, those who were told, "No, Moonlight, you won!"
The emotion on that stage ranged from total elation to shock and disbelief.
Then…humiliation, disappointment, acceptance, and joy.
Wow. 
Surely, prime time TV at its finest. The very stuff we fiction writers love. In fiction, that is.
But I digress.
Here's the deal.
Though Hubs and I haven't seen La La Land or Moonlight, given the glowing reports surrounding La La Land, I wasn't surprised to hear they'd won.
I was surprised at the grace extended to Moonlight movie execs by La La Land's producers when the epic fail was brought to light.
What could have disintegrated into discord and uglies, showcased, instead, the best traits of true winners from both camps.
For 33 million viewers, including my husband and me, that was, perhaps, the best Oscar-worthy moment of the entire night.
I may not remember who wore what or which star roared loudest but suffice it to say—winners aren't always the ones with trophies. Sometimes, they're the folks who sacrifice everything to elevate others.
*Whew*
See?
No politics. 😉
I did it!
***
PLEASE SHARE
The stars that shine the brightest aren't necessarily the biggest. When epic fails win.
Did you watch the 2017 Oscars? What the Academy Awards taught TV viewers about grace.
Original Image Credit: Maialisa/Pixabay
MORE THOUGHTS YOU MAY ENJOY
Four Reasons to Take the High Road
Sometimes, we say more by saying less. Four reasons to take the high road.
Five insights to grant perspective.
When life throws you curve balls, reframe your focus. Rethink adventure one crisis at a time.
Did you watch the 2017 Academy Awards?
What are your thoughts?
Are you an Oscars fan?
***
Now, just a few reminders…
Friends, please check your inboxes! My monthly e-newsletter went out this week. Be sure and add me to your address book so your newsletter isn't mistaken for spam.
Also, don't forget—if you subscribe to my blog or monthly e-newsletter, you're eligible for my monthly prize drawing. Hint: If you subscribe to both, your chance of winning increases. That's right, I'll toss your name in the hat for a really fun prize and the winner's first name and last name initial will be announced both here and in my future e-newsletters beginning in April.
Here are the eligibility rules of my monthly drawing:
Must be age 21 or over to win
Must be a U.S. resident (Due to mailing restrictions)
Must be an e-newsletter or blog subscriber
Winner will be drawn at random
Void where prohibited
NO purchase necessary
Thanks for visiting ~ See you next week!
Much Love and Many Blessings,