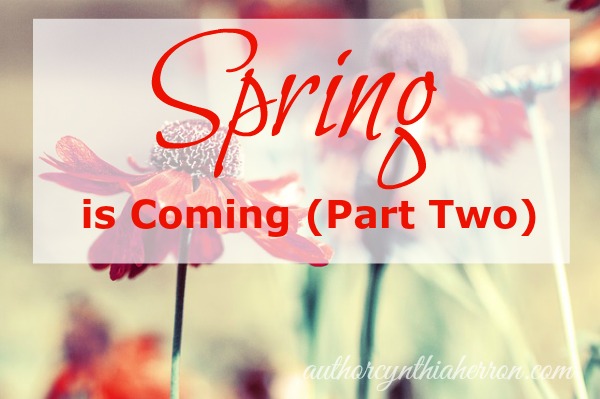 Spring is a marvelous season ripe with promise and new opportunities. After long, cold months of sun-starved days and muted browns and grays, we're more than ready to discard Old Man Winter and move on.
We're excited about what's up ahead. The past is behind us and the world is our oyster.
And yet—sometimes, new seasons don't come without growing pains.
Growth can be subtle and slightly uncomfortable or it can be drastic and upend us.
The fall I turned twelve, my world leaned more toward the drastic. (If you missed my previous post, you'll want to start there.)
You may remember my father's promotion and job transfer ushered in a world of change. Instead of being excited, I had this deep sense of foreboding. I wanted to be happy—really, I did, but as a pre-teen kid, loss overwhelmed me. That and something else I couldn't quite name.
I didn't want to.
Suffice it to say, at the beginning of my sixth grade year, I left cousins and a grandmother I adored, my beloved hometown, my school, our church, and even my dog Dusty. We traded all that was familiar for a new way of life and a sea of unknowns.
The morning the movers arrived, I lingered at the doorway of my bedroom. Who would sleep there now?
For that matter, who would eat in our kitchen, play in our yard, and care for our place like we had? And ohh—for the love of heaven, what about Dusty? Would the family who'd come for my dog take good care of her? Would they love her?
I choked back tears as I thought about all the goodness I'd taken for granted. At twelve, I already realized I was an old soul in a young body.
I didn't care that my father would make more money.
I didn't care about having extra funds for college in a few years.
I didn't care about a new town, another school, new friends, or a bigger house.
I cared that life as I knew it forever changed.
I wanted to be grateful. Was raised to be grateful. But then, I couldn't see beyond the immediacy of my own sad situation.
Even Mama and Daddy sent mixed signals. They put up a brave front for my sister and me, though I read sorrow in their eyes.
They weren't moving because they wanted to. They were moving with the future in mind. Growing girls, big dreams, and fatter paychecks brought reality home in a big way. This move was a tangible means to an end.
So I sucked it up and determined to make the best of a rotten deal. It could be worse, right?
That's what I reminded myself as we headed toward our new digs in the northern part of the state.
After a few hours, we reached our destination. While the smallish town seemed lackluster and, perhaps, a little odd, maybe our rental home wouldn't be too bad—except, in my mind, it already had a black mark against it. The elderly, widowed homeowner wouldn't allow pets so, of course, that's why our one-hundred-and-forty-pound St. Bernard wasn't welcomed. I knew I shouldn't blame the owner for her preference, but I did.
White with green shutters, the older, one-story house came with a screened-in side porch, a finished basement with laundry area, a large living/dining room, a kitchen, a bath, and two generous-sized bedrooms. An attic spanned overhead. The idea was to rent for a while until my parents could get a feel for other property options.
Move-in day, despite the upheaval surrounding that time, was relatively painless. The movers were professional, courteous, and fast. By the time everything was unloaded, the only word that jumped to mind was cold. Colder than normal for early fall, even with the heat on.
And, too, the place seemed devoid of anything happy. It seemed dead. Lifeless. Kind of like how I felt so I guessed we get along just fine.
"Do you like your new bedroom? I know you and your sister will have to share the room, but it's nice and big isn't it?"
Poor Mama. She tried so hard.
"Sure. It's great."
There were two pairs of double-hung windows, complete with Venetian blinds on opposite corners of the room. There was enough floor space to arrange my double bed along one wall and my younger sister's bunk bed set along the other. I knew I'd never bother opening the set of blinds on the window that faced the three-story Victorian next door. Something about that house and the close proximity of it didn't bode well with me.
My parents enrolled us in our new schools. Mine was a monstrous brick affair—off-putting and prison-like in appearance. Even the lunchroom was housed in the basement where teachers would march like guards overseeing inmates as students ate their lunches in silence. I also learned that the principal, a stern fellow who wouldn't know a smile if it crept up and bit him in the backside, was known as a strict disciplinarian who ran the school with an iron fist and an equally unbendable temperament.
Daddy started his new position with the state. Mama worked also for the state one county over.
We slid deeper into fall and life meandered on. Things felt different in our new town—off, almost, but I chalked that up to the move.
"You'll see, Cindy. When spring comes, everything will be better. We'll be all settled in by then and you and sister will have made lots of new friends."
I wanted to believe Daddy.
Maybe that's why I nodded and held my breath at the same time.
***
*Please join me for Part Three next week*
PLEASE SHARE
The fall of my twelfth year changed me. It was a season I'd always remember, but wanted to forget.
Often, God grows us through challenges to grant bigger blessings. The story I've never shared.
Original Image Credit: AquilaSol/Pixabay
COMPANION POST
Exhausted? Buckle up. Spring is Coming
Encouragement to nudge you toward the bright promise of spring.
What has a difficult season taught you?
In what ways did it challenge you or change you?
***
I hope you're enjoying my spring series. Because it's a rather lengthy story, I'm bringing it to you in installments.
Hang on to your hat, my friend. There's much more to come!
Thanks for joining me ~ See you next week.
Much Love and Many Blessings,