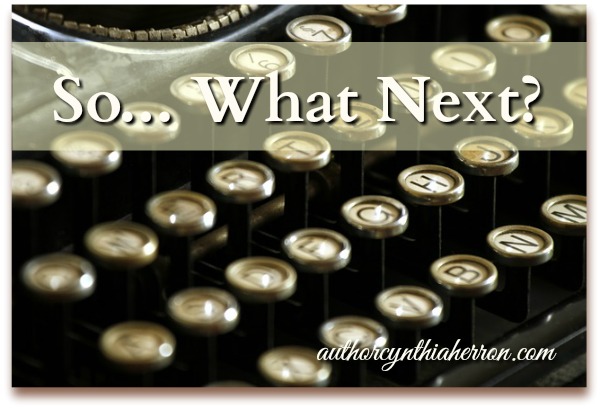 For a writer, there's nothing quite as thrilling as landing your first book deal.
Toss in a three-book deal and the series of your heart and you're convinced you've just been showered with fairy dust.
From the moment your agent delivers the news that an editor loves your project and has made an offer, to signing your name on the dotted line of your first contract, the process is rather surreal.
How do you describe your life up to that point?
How do you put into words all the emotion that suddenly swirls in your brain?
Well,  for a moment, you simply just breathe.
Then, you step back and absorb the victory. You soak in your accomplishment.
You begin to embrace it.
If it's been a particularly harrowing run up to that point, you extend some self-accolades. Also, you eat every blooming piece of chocolate in sight and chug down a generous pot of chocolate truffle coffee.
After all, 'tis the season to celebrate!
And when the month of revelry is over…
You ask yourself…
So…What next?
Since New Year's Day (have I mentioned my agent's perfect timing? *Waves* to beloved agent), I've taken some time to stand down and reflect on those dry-as-dust years versus this showers-of-blessing season.
The thing is as we envision a goal and we work toward it, time's never really wasted.
We may have off-days and less than stellar moments, but as long as we're plodding along (albeit slowly some seasons), we're sowing and growing, not waiting and wilting.
And let me pause here and mention things I'm so glad I did while still in the land of "wait."
I blogged. Blogs are ours. We own them, not some other medium who has their best interest at heart.
I joined Facebook, Twitter, Pinterest, and LinkedIn. I used social media platforms in natural ways, and in turn, grew my "presence."
I started a newsletter. I connected with new friends and old. I offered something of value.
I wrote more books. I created new projects.
I forged relationships. I hooked up with fellow wordsmiths and potential readers.
I joined writing organizations and attended conferences. I grew my craft.
I clicked with new critique partners. We challenged each other to new heights.
I entered, finaled, and won in writing contests. I honed my skills.
I savored the process. Not always—not gonna lie, but when rejections came, I focused on the bigger picture.
I believed. When some doubted, I didn't. I worked harder.
Fast-forward to today. To now.
Now, I'm still working. Writing, revising, editing, and all that goes with the publication process.
Next up?
Meeting deadlines.
Crafting more stories.
Juggling familiar balls in new and different ways.
And always…
Thanking God for this incredible thing he's blessed me with. Words.
Oh, how I love them!
***
PLEASE SHARE
Writers, think you're done? What really happens when you get your first contract.
ENCOURAGEMENT
Provision: Trusting God When It's Hard
When God meets our needs during dry-as-dust seasons.
Original Image Credit: tsg1/Pixabay
What's your dream?
What are you doing to make it happen?
***
Hey, dear friend, there's a lot going on over my way!
In my February newsletter, I'll share book news and some other fun details. Don't miss this encouragement-packed celebratory issue! And pssst… To kick off the celebration, I'll select THREE—yes, THREE—newsletter winners! Sign up here to join our family. 🙂
Much Love and Many Blessings,