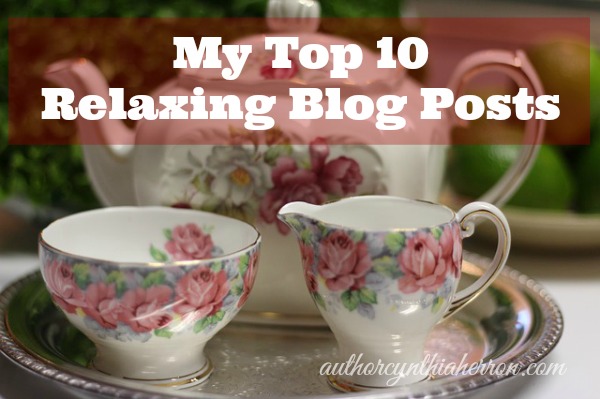 Today as we gear down for the weekend, I thought it might be fun to share my Top 10 Relaxing Blog posts.
I've included some nuggets of encouragement, as well as thoughts to coax a smile and a pleasant memory or two. If you like something you read, I hope you'll pass along to others.
Enjoy and have a great weekend ~
          The small things we do to bless others and the effort we make to change lives.
          The moment pressed upon my heart—bookmarking itself in my memory bank.
          Encouragement to combat heartache in a misery-loves-company world
          Downtime is essential to a well-balanced lifestyle. 15 tips to a happier, healthier YOU.
           Realizing that God will provide even though our plans won't always mesh with His.
          Clean humor and country living in the Ozarks. Why laughter is the best medicine when it comes to killing dandelions.
          Through regular journal-writing, we can become better writers.
          5 Ways to flourish despite life's hardships.
          Sometimes, our journeys of doubt turn into sojourns of faith. Encouragement for the the bent and nearly broken.
          Celebrating a Sweet Sixteen Birthday party
***
PLEASE SHARE
10 Thoughts to relax by as you gear down from your work week.
Need a word? Encouragement here!
Original Image Credit: HomeMaker/Pixabay
How is your weekend shaping up?
How do you plan to relax?
***
See you back next week!
Encourage one another ~
Much Love and Many Blessings,