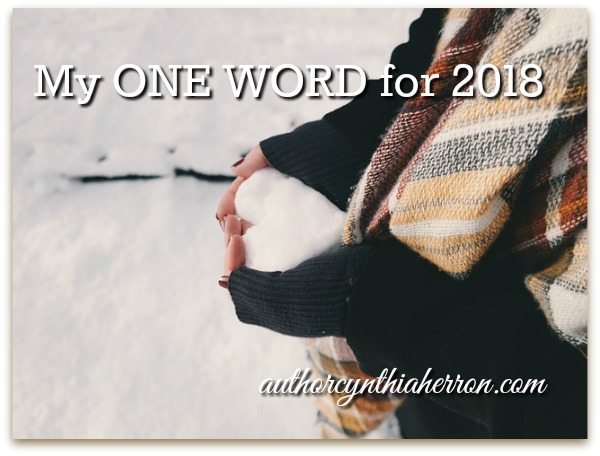 Wow. 2018. That doesn't seem possible.
Even though we're twelve days into the new year, I'm still adjusting. (Good gracious! Someone, please hide those leftover Christmas cookies and sweet treats!)
As we enter a new season, I hope you are well and refreshed. I hope, too, this finds you with renewed vision and focus.
When I consider those words—vision and focus—I think about my one word for 2018.
Since I don't make New Year resolutions which are so often broken or made in haste, I set goals or choose a workable plan. Like others, in recent years, I've adopted one word to center me and grant perspective.
in 2016, I chose encourage. Last year's word was persevere.
This year, I'm choosing a word that once again ties in with my life theme (to encourage and uplift). This word grounds me. It challenges me to be a better person.
For 2018 my ONE WORD is bless.
Bless the Lord, O my soul: and all that is within me, bless his holy name. (Psalm 103:1 KJV)
As I prayed about new goals and direction, I realized the one thing that's always a constant in the back of mind is how I bless God and how I bless others.
While I realize I'm imperfect and, sometimes, I fail, that word encompasses everything I strive toward.
At the end of the day, I would pray I've impacted humanity for the good. I would hope I've rallied, encouraged, and loved as Christ does.
I would pray I've blessed others through my actions, my integrity, my writing, and my life journey.
Baby steps score big wins. Meaning: it's the little things we do for others that may plant a seed, grow a garden, or reap a harvest. 
I have the ability to change a life.
You do, too.
This year, as we move forward together, I hope I continue to bless you in little (and maybe big) ways.
And I hope you will continue to join me here on the blog as I soon share some really exciting news. (I may announce it on my social media first so be sure and connect with me on Facebook and Twitter.)
Hint: It has to do with that word bless. Something I always dreamed of doing through my words and stories. For you.
***
PLEASE SHARE
The big reveal. My ONE WORD for 2018.
New Year resolutions leave you cold? Me, too. Check out my ONE WORD for 2018.
Original Image Credit: StockSnap/Pixabay
THOUGHTS YOU MAY ENJOY:
Happy 2018 – A New Year's Eve Greeting
Recap and Best Wishes for a Happy 2018
Can you guess the word? I think I nailed it!
My Top Ten Relaxing Blog Posts
10 inspirational thoughts as you gear down from your work week.
How's the New Year treating you?
Have you chosen One Word for 2018 or are you a resolutions kind of person?
***
A few housekeeping notes…
We've had a few snafus in leaving blog comments. That makes me really sad! However…rest assured, my website team is working on the issue. Until we get it corrected, I would love it if you'd connect with me via Facebook and join in the conversation there. Pretty please!
Other places to find me…
On Monday, January 15th, catch me over on the ACFW blog where we'll chat about "success." (How long should we pursue our goals? At what age should we quit?)
On Tuesday, January 16th, I'll pop in at the WordServe Water Cooler with some refreshing ways to keep the joy rolling in 2018. Please join us on both days and weigh in!
Until next time,
Much Love and Many Blessings,