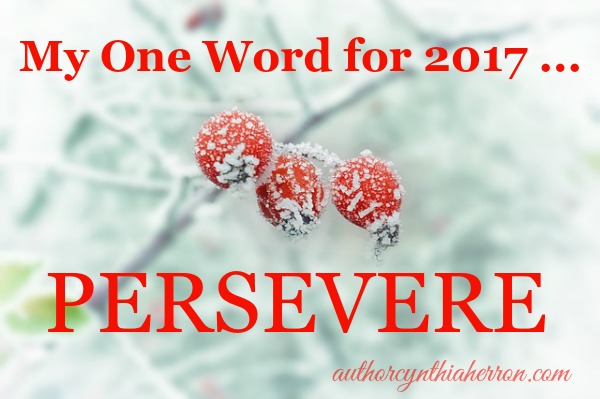 Welcome back!
I'm so glad you stopped by.
As 2016 drew to a close, I relished a much-needed break from blogging and social media.
I savored time with family and friends as we celebrated the true meaning of Christmas—the birth of our Savior. I hope your holidays were joy-filled, as well.
Now that another year's behind us, I've reflected on past goals mastered and met, and a few things I didn't accomplish. I've set new goals for the coming year and I've realigned priorities.
As I mentioned in my recent newsletter, I rarely (if ever) make New Year's resolutions, which are too easily broken, forgotten, or made in haste. I opt for "goals" instead.
Goals force us to examine our dreams and desires, usually through a step-by-step process. We might organize a plan to attain our goals and then enlist mentors to keep us focused and on track.
Last year, along with new goals—for the first time ever, I chose one word to ground me and center my thinking. That word was encourage. It fit me. It's my life philosophy.
This year, as I contemplated my word, the choice seemed obvious. It's a tough one—a word writers know well.
My one word for 2017 is PERSEVERE.
As some dreams withered and died, others have been resurrected. Still, this writing journey isn't easy.
The writing life takes tenacity, focus, and flexibility.
It demands work, self-direction, and wit.
It requires courage.
Balance.
Shoe-leather skin.
Transparency.
Good judgment.
The high road.
A sensitive heart.
An intuitive spirit.
A listening ear.
Drive.
Determination.
Sometimes, tears.
As one year melds into the next, defeat would seem the saner option.
However, I'm a writer.
Sanity is overrated.
And you know what they say about insanity.
However—I would add this caveat.
We persevere until we get it right.
As we learn, grow, and try new things—while testing what works and discarding what doesn't—while envisioning success.
"Consider it pure joy, my brothers and sisters, whenever you face trials of many kinds, because you know that the testing of your faith produces perseverance. Let perseverance finish its work so that you may be mature and complete, not lacking anything…" (James 1:2-4 NIV)
***
PLEASE SHARE
What's your "one word" for 2017? Here's mine and why.
It's no mystery. The word writers understand.
Short, sweet, and to the point. My one word for 2017.
ENCOURAGING THOUGHTS YOU MAY ENJOY
Ditching doubt isn't "I'm better than you" mentality. It's the faith-based seed of hope. How ditching doubt will change your mindset and reframe your day.
Don't Be Daunted by Dream-Crushers
Your vision. Your choice. Six ways to deal with dream-crushers.
A winning mindset isn't always easy. Five key ways to think like a winner.
'Original Image Credit: sogard/Pixabay
Did you choose "one word" for 2017?
Goals or New Year's Resolutions—What's your take?
***
Newsletter family—Check your inboxes! January's newsletter went out yesterday and it's loaded. 🙂
Not a subscriber? No problem! Go over to the sidebar, fill in your info, and click on the coordinating link that will come to your inbox. That's it. You're added!
See you soon ~
Much Love and Many Blessings,