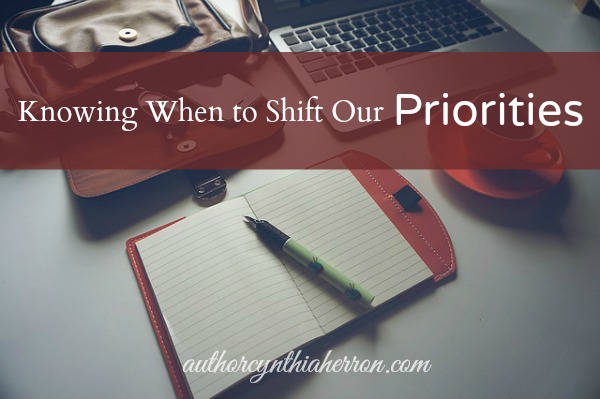 One of the hardest things a writer faces is knowing when to say "no."
We may try to temper it with "I'd love to, but I can't just now." Or "I'm sorry, I'm afraid I'll have to pass."
Whatever lingo we use, saying no requires conscious effort and commitment.
It doesn't mean we're insensitive to others' needs or that we have a grandiose sense of self. It means we weigh the demands on our time, and we consider what we're realistically and effectively able to do.
I've blogged about this subject on countless occasions, but every now and then it's good to revisit the topic.
As a busy wife, mom, writer, blogger, and wearer of many hats, I routinely consider my priorities. I think about ways I can save time. I also shift the least important tasks to the back burner in favor of the more important must-dos.
If you've missed my posts on time-management, juggling and balance, these are some of my faves:
Now, as you've probably noticed, my blogs aren't as timely as they used to be. That's a rarity for me because short of brief blogging breaks and holidays, I've usually maintained a strict schedule over the years.
The thing is—as a writer and as a creative—after God and family, writing has to come first.
Blogging, social media, baking a pie, or sipping tea with Neighbor Nelly are all wonderful, but those are my back burner priorities.
I want to do it all.
I'm passionate about blogging, tweeting, baking, and sipping.
But alas…
I'm not Superwoman.
I'm fallible.
I grow tired at times.
Also, I'm not one to sail every ship, jump on every bandwagon, or jet-set with the Joneses just because everyone else is doing it.
I know my limits.
I sense my strengths.
I realize my weaknesses.
I know when my gas tank's running on empty and when I need to pause.
The last several weeks I've sensed a shift.
I've recognized the symptoms.
Burnout.
I've spoken about that before, too, and why breaks are necessary and God-ordained.
By the seventh day God had finished the work he had been doing; so on the seventh day he rested from all his work. Then God blessed the seventh day and made it holy, because on it he rested from all the work of creating that he had done. (Genesis 2:2 NIV)
I've stepped back from "perceived" priorities to recharge and write.
Blogging's had to take a back seat to other musts.
Please, don't misunderstand. I love blogging. It's my connection to you—and you matter to me.
I'll still continue to blog and I still plan to keep up my W/F blogging schedule, but—there may be days when I don't post.
As always, I'll try to mention this beforehand. If I'm unable to do that, though, thanks for extending grace and good cheer.
You delight me!
***
PLEASE SHARE
When to say "no" to too much stuff. What's a writer to do?
Rest and recharge. Why breaks are necessary and God-ordained.
Image Credit: freephotocc/Pixabay
How do you maintain balance and juggle priorities?
What are your favorite ways to rest and relax?
***
Congratulations to my April giveaway winner!
Psst… Don't forget to open your recent newsletter to see if that's YOU.
Until next time, my friend—
Much Love and Many Blessings,