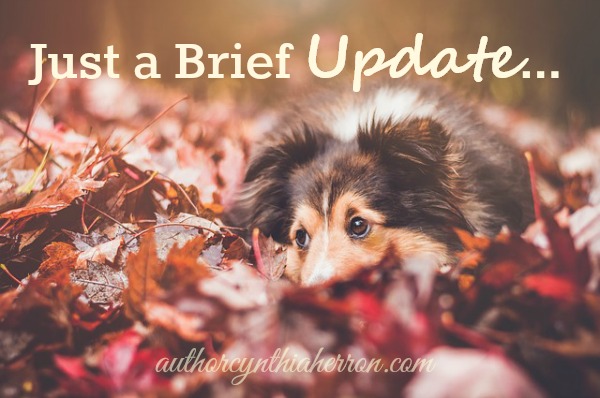 Since recent weeks have been rather hectic, today's blog post is coming to you on Saturday and not Friday. Thanks for joining me for a few minutes as we kick back, sip java, and chat. (And since it's Saturday, don't break out your dress duds. Your PJs and slippers are just fine!)
You may remember I mentioned I'm working on a major writing project. I'm still knee-deep in this manuscript, as I've significantly changed a plot line, and that spells w-o-r-k. Lots of it, in fact! But…on the bright side? I've had great feedback and I hope the rest of the story is smooth sailing. *fingers crossed*
To my newsletter family— Watch those inboxes!
November's e-newsletter goes out next week. Hint: You will love it! Inside, you'll find the usual fun and encouraging goodies, plus some additional surprises reserved only for my newsletter subscribers. This weekend is homecoming at my alma mater so I'll dish about that, too, as well as share some photos.
To celebrate this wonderful month of gratitude, I've created a "Vintage Thanksgiving" Pinterest board, which I'm adding to daily. If you love nostalgia and memories of yesteryear, check out "Vintage Christmas," as well. And, of course, "Memory Lane" will speak to the hearts of those who long for and love the good, ol' days.
Tuesday, November 14th finds me at the WordServe Water Cooler . Don't miss 10 Things You Should Know About the Writing Life. And if you didn't catch last month's post Critique Partners: 7 Things to Consider you can read that here.
I'm blogging less to write more, but I hope to return to my Wednesday/Friday schedule soon. Until then, I'd love to connect with you on Facebook, Twitter, and Pinterest.
Here's to a fantastic and restful weekend, my friend!
***
SHARING IS CARING
Newsletter update and more from Cynthia's niche to yours!
ADDITIONAL THOUGHTS YOU MAY ENJOY:
How writers show gratitude during this season of Thanksgiving.
Reminisce with me as we remember Thanksgivings past.
Downtime Dillydallying: 15 Tips for a Stress-Free Weekend
Practical tips for a productive (yet restful) weekend.
Original Image Credit: StockSnap/Pixabay
What's new in your life?
How are you preparing for the upcoming holiday?
***
See you back soon!
Much Love and Many Blessings,