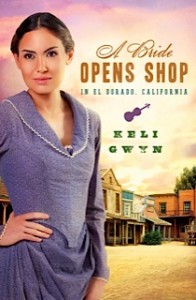 This week at my cyber home, I've officially proclaimed it to be "Love on Keli Gwyn week." (I've planned this for a long time, so I'm super excited that you stopped by!)
If you like parties, prizes, and books, then you'll want to be sure and join in the fun today, Wednesday, and Friday. And don't forget to stop by the refreshment table that's filled with all kinds of delectable goodies. (No calories involved–I promise!)
We'll kick off the festivities today with my review of A Bride Opens Shop in El Dorado, California, but first, I have a confession.
When I was initially asked to review A Bride Opens Shop, I hesitated just a wee bit. Here's why: I've followed Keli's writing journey since the "early days." She's someone I greatly admire, we're agency mates, and we've become personal friends. (And good grief…she's just so cotton pickin' nice!) Could I do it? Could I remain impartial enough to give my honest opinion?
Whew! The pressure!
Actually, it was because of our connection that I read A Bride Opens Shop with more of a discerning eye than I normally might have.
Here's a brief overview of Keli's début novel (per Keli's Media Kit used with her permission):
"Widow Elenora Watkins is determined to provide for herself and her daughter without relying on anyone else. Can she run a successful business after falling for the competition? Miles Rutledge finds himself willing to do anything to keep Elenora in town. But can he win her heart while putting her out of business?"
Title: A Bride Opens Shop in El Dorado, California
Genre: Inspirational Historical Romance
Release Date: July 1, 2012
Publisher: Barbour Publishing
ISBN-13: 978-1616265830
I initially cracked opened A Bride Opens Shop in El Dorado, California at my lunch table. I'd intended to read the first chapter, but wound up reading three, which is always a good sign.
During the opening scene, we find Elenora Watkins and her daughter, Matilda, traveling to California in search of a brighter future. (Of course, a stagecoach hold-up isn't part of that plan.) The hook immediately drew me in: a widow and her little girl and the essence of danger right at the outset. Would they be harmed? How would they escape? (You'll have to read for yourself and see what happens.)
I will say it becomes obvious that Elenora is not some wilting flower.  In fact, she's resourceful with a great head for business. Thinking she's about to set up a partnership with mercantile owner Miles Rutledge, only to learn it's not going to work out, leaves Elenora scrambling for a plan. After all, she has a daughter to support and time is of the essence. When she does come up with a "solution" to her dilemma, it's not quite what Miles has in mind. Competing with a fellow shop owner is one thing. Competing with a pretty woman is quite another. (And in a shop across from his very own mercantile!)
Sparks begin to fly as "Ellie" and Miles butt heads in business but join hearts in the process. And little Matilda, or "Tildy" as she's affectionately been dubbed, couldn't be happier, along with others in town. However, it's not until other climatic events unfold do Elenora and Miles realize their devotion to each other. Will they set aside their differences long enough to see the forest for the trees? Will Ellie's relationship with her Heavenly Father take on a new meaning, as well?
I thoroughly enjoyed A Bride Opens Shop in El Dorado, California. The elements of humor, romance, and drama worked seamlessly in the artful telling of a story so poignant it left me breathless.
Rating: 4 1/2 out of 5 stars!!!
Wow!
Now that you're chomping at the bit to read Keli's heartwarming story, I'm thrilled to tell you that Keli has generously offered A Bride Opens Shop in El Dorado, California to one of my wonderful commenters today! AND… more great news… I'm throwing in a $10 Darden's gift card (good at Reb Lobster, Olive Garden, or Longhorn Steakhouse) to go with it!
AND…
When you leave a comment/SUBSCRIBE to my blog today, you're automatically entered into my end-of-the-month giveaway (which will be held next week. That prize is for a $15 Barnes & Noble gift card!)
AND…
It keeps getting better! I'll have another surprise post on Wednesday and Friday of this week, with more giveaways! So you see, lots of ways (and prizes to win)!
(Don't forget to ck. out the RULES. Just scroll to the bottom of that post.)
You have until midnight tonight (CST) to enter (leave a comment) for today's drawing. I'll announce today's winner on Wednesday's post.
******
Imagine you're transported back into time.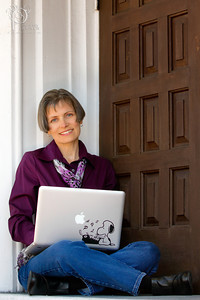 What ONE modern item/convenience would you take with you?
Photo Credit of Keli: Sierra Springs Photography
Website – http://www.keligwyn.com
Facebook Timeline –
http://www.facebook.com/KeliGwyn
Facebook Page –
http://www.facebook.com/KeliGwynReadersGroup
Twitter –
 http://twitter.com/#!/KeliGwyn
Goodreads –
 http://www.goodreads.com/author/show/5411901.Keli_Gwyn
Blessings Always,