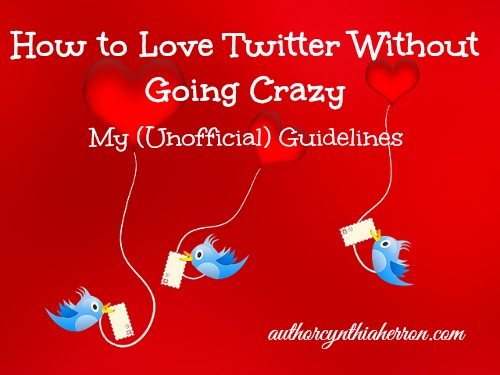 When I jumped on the Twitter bandwagon in 2011, I thought it was the greatest thing since bell bottoms and toe socks.
It was fun, chatty, and quick. I followed back most people who followed me. Conversations were friendly, snappy, and polite. I met a lot of nice, interesting folks.
Then…
Twitter changed.
It didn't feel the same way it once did. Conversations seemed stilted, less animated and fun. You know—shallow. Me-driven and…dare I say it? Automated.
It no longer enchanted me the way it once had. The fairy dust had worn off. Ugh.
Now, don't misunderstand.
With Twitter or any other social media venue, for that matter, a certain amount of marketing is to be expected. It's sometimes a delicate dance along an ever-changing slope.
But, ohh, my gravy.
When it becomes an endless stream of Buy ME, "Like" ME, Kiss MY Grandma and her cute cat Mischief, it happens. Poof.
The magic evaporates.
It's like taking that last bite of chocolate and having nothing left in our sippy cup. Kind of makes us sniffle a bit. Or…a lot. (Except hopefully, we'll be a little more gracious than a two-year-old might.) 😉
As you know, I've often talked about social media, and I've mentioned some Dos and Don'ts.
Today may be a recap if you've read those posts, but if you're new here or new to Twitter, I want to share the love again—because I still love Twitter and it is still fun (again) now that I've set some new perimeters.
First…here's a cup of coffee. *hands you a deelish round of Caramel Coffee Cake*
Sip slowly. It's hot.
Ready?
Here we go.
How to Love Twitter Without Going Crazy
My (Unofficial) Guidelines
I don't always follow back. Here's why.
I love connecting with fun, interesting, like-minded folks. Now, that doesn't mean we have to agree on every topic, like the same things, or even speak the same way. After all—same is boring.
But (I know. I have to say it.) the reality is… no one can follow thousands upon thousands of Twitter peeps. Those who follow that many people or have that many followers themselves aren't really connecting. They're number counting.
I rarely follow "eggs" (folks with no head shots).
I will not follow people who tweet spam, porn, nasty commentary, or endless rants. And yes, I check followers' Twitter accounts before I follow-back. Those accounts hold no appeal for me.
Also—I don't sit on social media all day. I simply can't. I'm a writer, so I write. I do pop on and off throughout the day, and I often check my Twitter feed. Sometimes, I can't immediately follow-back those I'd really like to. Not enough hours in the day!
However, please know I try to catch up at the end of every week so if we haven't connected yet and you'd still like to, please let me know. 🙂
I will not play the numbers game.
I "follow" under 1,000 people on Twitter, and it still feels like too many so I'm in the process of paring down.
In recent weeks, I've unfollowed those who follow me (to boost their numbers) and then unfollow the next week, month, etc.
Some other instances I've unfollowed people include: inactive users, off-color content, non-stop political drama, or general weirdness.
I use lists.
Twitter lists are a great way to stay organized. Some of the ones I've created are Writers #1, #2, #3, Writers Resources, Social Media, Media/Publishing, Inspiration, Interesting People, and so on.
I use TweetDeck (though there are other options) to streamline my experience and make it more efficient.
I freely use my "Report and Block" Twitter feature
In the beginning, I hesitated to do this. Now, things have gotten so crazy that if I don't, one spam account can lead to dozens more.
It's better to report and block trolls, meanies, and spam and stop them in their tracks before they get out of hand.
And note—it's a good idea to look at your profile a few times a week to see just who your followers are. These folks can sometimes slip under Twitter's radar and we don't always get notified who our new followers are. Settings aren't foolproof.
I tweet one to five times a day. Sometimes, more. Sometimes, less.
For those folks who tweet dozens of times throughout the day? Please…don't.
Unless you're doing a scheduled chat session and you've given your followers a heads-up, this clogs Twitterfeeds and makes us want to use our outside voice. 🙂
I'm careful with automated tweeting.
Sometimes, I'll use that feature to preschedule newsletter/blog info., but I'll rarely do this more than a few times per month.
Auto-tweets don't communicate the same level of interest or respect for your friends than a personal real-time tweet might.
I don't have my Twitter account fed into other social media accounts and vice versa.

This is a personal preference, and you may choose to handle things differently. That's okay!
Personally, when I see those "I posted a new picture to Facebook, etc."  show up in my Twitterfeed, it feels too much like spam. Especially when there are more than a dozen in a row. Yikes!
I rarely respond to Direct Messages on Twitter.
Again, please don't use an auto-tweet service thanking me that I've followed-back and then invite me to "like" your page, your book, etc. It's impolite. And impersonal.
I think before I tweet.
Many times, we may think our tweets are going off into the wild, blue yonder. While it's true not all our followers will see our tweets, some will.
I never want to tweet anything that could be perceived unkind or unprofessional. (Does anyone really care that I locked myself outside on the deck in my bathrobe? Well—other than my family who got a good laugh?)
Twitter's not brain surgery, but refining our message is something that's learned over time.
I don't over-think it.
No, I'm not contradicting myself.
I do think about what I want to say, but I'm authentic. Real.
Twitter is a hoot (no pun intended) once you get the hang of it. It's a social medium I enjoy because it's quick, fun, and in-the-moment.
I approach it differently now than I did several years ago, but that's a good thing.
As our craft grows, we do, too. Doing the same, ol' thing the same ol' way leads to stagnation and boredom.
No one wants that, right?
So, let's review.
Tweet responsibly. Check.
Establish guidelines that work for YOU. Check.
Sit back, relax, and feel the love. Check.
You can do Twitter without going crazy.
And feel free to step away on days that you do. The Twitterverse will still turn like sands through the hourglass…
Or something like that. 🙂
***
PLEASE SHARE
Does Twitter make you crazy? 10 tips for a happier, healthier YOU.
My (unofficial) Twitter guidelines for the would-be tweeter.
Have birdseed, will travel. To a point. Here's why.
—
ADDITIONAL THOUGHTS YOU MAY ENJOY
Will You Be My Friend? The Delicate Dance of Social Media.
Are Too Many Memes Hurting Your Brand?
Do Newsletters Scare You? Five Ways to Rock It!
Original Image Credit: louda2455/Pixabay
What are your Twitter guidelines?
What are your favorite social media venues?
How has social media influenced your life?
***
A few housekeeping notes…
This month's newsletter went to subscribers' inboxes this morning. Don't forget to check yours! And if you haven't signed up yet, I'd love to welcome you to my newsletter family.
I'm guest-posting on the Seekerville blog Tuesday, April 5th. Please join us for the fun!
And remember—I post here on Wednesdays and Fridays. See you back soon!
Much Love and Many Blessings,