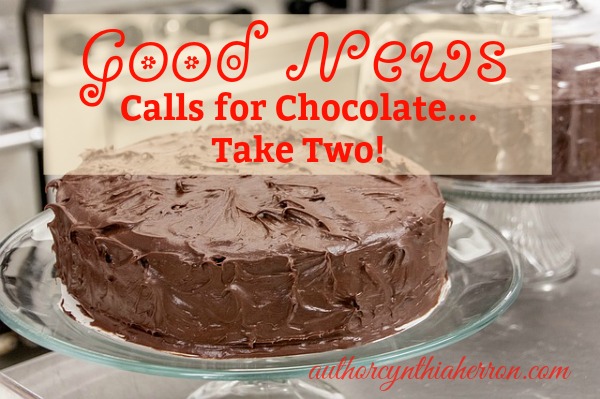 Ahh… I love good news.
And you know what good news calls for, right?
Good News Calls for CHOCOLATE… Take Two!
*slices cake and passes it your way* Don't be shy. There's plenty for everyone. (And no worries. I've prayed the calories right out of it!) *tosses confetti*
Remember when I announced I was a 2017 ACFW Genesis Semi-Finalist?
Today I'm thrilled to share I'm a 2017 ACFW Genesis Finalist! See the difference there?
As I mentioned in my recent newsletter (*ahem* ) I've been busy in my writing cave…and for good reason. I had stories to write. And I must admit, the novella I submitted to this year's contest was so much fun. I love the story, the characters, the inner journey, and the transformation we see at the end. As a writer, there's nothing more fulfilling than when you know you've hit the mark and your story's resonating with readers. The feedback stokes that ol' creative flame and prompts us to press on.
I told you in this post I made the decision to shift some priorities to increase productivity. While I continue to blog weekly, writing stories must come first.
Now, that being said… I love my blog readers. Thanks so very much for joining me here. I appreciate your e-mails and messages. I appreciate your encouragement. I hope you feel encouraged, too, as we laugh, chat, and do life together.
I also want to urge you to sign up for my monthly newsletter. (See the quick, easy, and painless sign-up button in the upper right-hand sidebar.) In my e-newsletters I share so much MORE than I'm able to here. Also, only members of my newsletter family are eligible for my monthly drawing for really great prizes. Hint: You must open my newsletter to know if you've won. Winners have a month, or until my next newsletter rolls out, to send me their contact information. After that, your prize goes back into the goodie pot. And I sure hate when that happens!
Now—I don't often do this but…
If something you read on the blog or in my e-newsletter touches you, would you please share with your friends and family? Also, if you're not an e-newsletter subscriber yet, would you please consider signing up? My newsletter family is my heart. Members are privy to more content than here on the blog and I'd just love to keep the encouragement rolling. Thanks so much for your love and support! It means the world to me. xoxoxo
Back to today's subject… Good news and chocolate.
To kick this celebration off right, check out Ruth Logan Herne's mouth-watering Symphony Bar Brownie recipe. Oh. My. Word. Doesn't it sound (and look) delish? Ruthy and friends always share something lip-smacking good at the Yankee-Belle Cafe. Be sure to stop by and print/pin the deliciousness. Your family will thank you.
As for the 2017 ACFW Genesis final, you can learn about the complete process here. Having been a 2016 ACFW Genesis Double-Finalist, this year's process wasn't new to me, but it's still just as exciting (if not more). The fact that I finaled again reaffirms my growth as a writer and it encourages me to press forward.
If you're on the fence about entering your work in a contest, please consider it. It is work, but it's so much fun. The feedback you receive will further your craft and improve your skills. And you'll make new friends along the way. See? Win-win. 🙂
The 2017 ACFW Genesis winners will be announced at the conference gala in September. In previous years, ACFW has provided a live blog of the awards ceremony so you'll want to be sure and catch that. It's a thrilling evening! (See the ACFW website for more information.) If you'd like to watch the 2016 ACFW awards ceremony, just follow the appropriate links at the conference page. Go to the side bar where it says "2016 Live Blog of Gala." Click there. On that page, click "watch video now." I believe that link will remain active until this year's 2017 awards ceremony.
Okay. Still with me? *passes you seconds on the cake* (You know you want it.)
I need your help.
With the busyness of the summer season, my blogging time's dwindling. I'd love to have you guest blog!
Peruse past posts to get a "feel" for the blog. I'm open to anything uplifting or encouragement related. Please message me with your wonderful ideas.
Keep the faith, friend, and see you back soon ~
***
PLEASE SHARE 
Writing, celebrations, and chocolate. I'm sharing!
Considering a writing contest? Why you should!
THOUGHTS YOU MAY ENJOY
ACFW 2016: 15 Tips for a Fabulous Conference
How not to stress at your first ACFW conference.
Impressions and takeaways from the 2016 ACFW conference.
Potential isn't realized overnight. How small beginnings lead to big opportunities.
A TREAT
Check out my June newsletter. If you like what you see/read, please sign up and get ready for some lovin'!
Original Image Credit: huntlh/Pixabay
How do YOU celebrate good news?
What's happening over your way? Would love to know!
***
Much Love and Many Blessings,