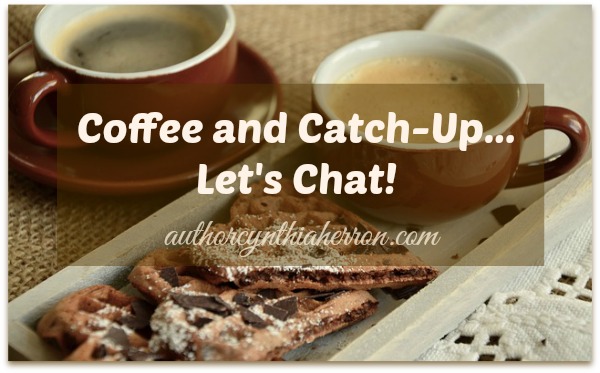 Hi friend ~
It's great to be with you today! I've missed you.
Pull up a chair as we catch up over coffee and treats. No calories. No worries. And no bad stuff—because that's what the news is for, right?
Now, for those who've asked—yes, I'm still here. Yes, I'm still blogging (though, as I mentioned a few months ago, my priority just now is writing—as in completing another manuscript).
Currently, I'm immersed in a novel that's near and dear to my heart. It's a contemporary inspirational romance set within the Ozark foothills, and it's a story that I love, love, love. I'm on a self-imposed deadline, so while I'm still active on social media, I'm not as active. I do hang out on Facebook and Twitter and I'd love to connect with you there.
In recent months, I've also added some fun, new Pinterest boards. In addition to those boards and pins that reflect the "feel" of my stories, check out my comfort food board deliciousness. (Oh, my word. Can you say mashed potatoes? Mmm!) I have the food boards categorized for convenience, and there are tons of family friendly, quick-prep recipes. And what would fall be without some pretty eye candy? Take a peek at Autumn Beauty. Which colors are your favorites?
I fully admit I'm not Superwoman. In order to complete work related goals, I've relegated some projects to the back burner to finish others. I've used lists to prioritize the most important tasks. Blogging, as much as I adore it and believe in it, is one of those things that I've had to adjust. While I will eventually return to a Wednesday/Friday format, for a while, I may post only on Fridays.
You see, writing's a process. At times, words flow. At others, not so much.
If you write, of course, you well understand this. And if you don't? Consider your favorite stories. Those you identify with and those that leave you breathless.
The next time you dive into that treasured novel and read those beautiful passages you can't stop thinking about? Imagine the author who labored over those words, the author who meticulously plotted and planned that story—the story they wrote with you in mind.
Writers treasure readers.
We want you to like our stories. We want you to remember them and share them with others.
Also, if you feel inclined, please share our blog posts, updates, and newsletters in your social media sphere. Word of mouth sends the message that you value what we write. Good vibes multiply. And that's a really great thing in today's world. 
The publishing journey is just that—a journey. Sometimes, the journey is an uphill climb on a rocky, uncertain path. At times, It's as heart-wrenching as it is thrilling. No two journeys are alike. No story is the same.
We gulp coffee, string words, and revise them. We negotiate the path as best we can.
You, dear friend, make the journey sweeter.
***
SHARING IS CARING
No two journeys are alike.  What writers think. What readers know.
MORE GOOD STUFF
A Dose of Truth for the Weary Writer
Striking a healthy balance between humility and cockiness as writers blaze old trails with new ideas.
The stories that matter depend on perspective. What's your story?
They say age is relative, but how long should we really pursue our goals?
Original Image Credit: Congerdesgin/Pixabay
Are you on a journey? What have you learned?
***
If you missed my recent post—> Critique Partners: 7 Things to Consider, check it out at the WordServe Water Cooler.
Also, October's winding down and you know what that means—well, besides warm jackets and falling leaves. (Newsletter prep!) Sign up for my monthly updates here or over in the sidebar. I won't spam you, bug you, or bother you with mass mailings of any sort. When you sign up, be sure and click on the confirmation link that will arrive (within an e-mail) in your inbox. This completes the two-step opt-in process. That's all there is to it.
Welcome to the family!
Much Love and Many Blessings,