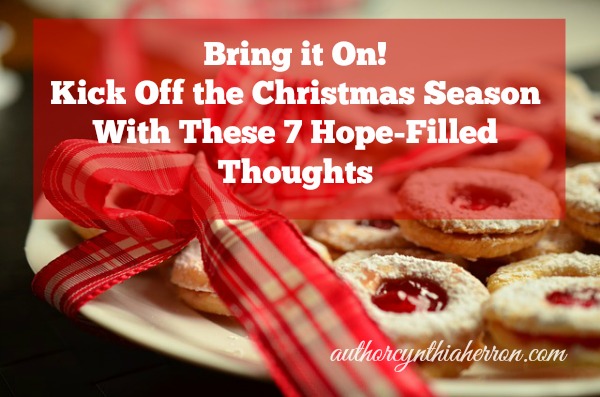 Ahh.
December.
Are you in prep mode yet?
Is the tree up? Have you decked your halls? Started baking? Finished shopping?
Oh, my goodness—if you've done all that, you get the gold star today. Well done, friend!
Two out of four for me.
Still…
Over our way, the air hums with excitement as we create a new normal for the next 23 days.
Today, amidst the busyness and schedule-jostling, I thought it only fitting to pause for a few moments and reflect upon the season.
Let's think about this holiday and its significance.
Let's remember why we celebrate it.
The birth of our Savior is no small thing.
For some, Christ's birth is shoved to the back burner due to "priorities." To-do lists overwhelm.
For others, the meaning's lost in life's muddiness and heartache. Perspective diminishes. So does the joy.
Then are the folks who once cared, perhaps, but their hope bank's tapped out, and indifference has nipped at their heels and settled in their bones.
Maybe you know someone like that. Maybe it's you.
Whoever it is, whatever the circumstance, perhaps these thoughts will add a measure of cheer and maybe bring a smile or two.
Let's kick off the Christmas season with these 7 hope-filled thoughts ~
Hope for the Holidays (Encouragement for Writers, Caregivers, and YOU)
Having a difficult season? Here's hope for your wintry heart.
Merry Christmas Encouragement with All My Love
Sometimes, the season's hard. Why you should move forward.
Top 20 Ways Writers Spread Joy
20 tips and ideas to bless writers' hearts
Memories of Christmas past and snapshots of Christmas present
Would Jesus and Santa Claus be Friends?
A poignant childhood memory and a moment in time
We've Decked Our Halls ~ Come On In!
What's a writer to do? Decorate for the holidays, of course.
Christmas Prep and Kittycat Curiosity (with Photos)
Christmas decorating and kittycat woes. How do you deal with a curious pet?
***
PLEASE SHARE THE HOPE
Out of sorts? Here's a dose of hope and a dollop of cheer.
The holidays can be hard. 7 pick-me-ups to counteract that.
Original Image Credit: Condesign/Pixabay
How are you kicking off your Christmas season?
How can you offer hope to others?
***
Newsletter family, please check your inboxes! Hope is waiting for you.
See you next week!
Much Love and Many Blessings,