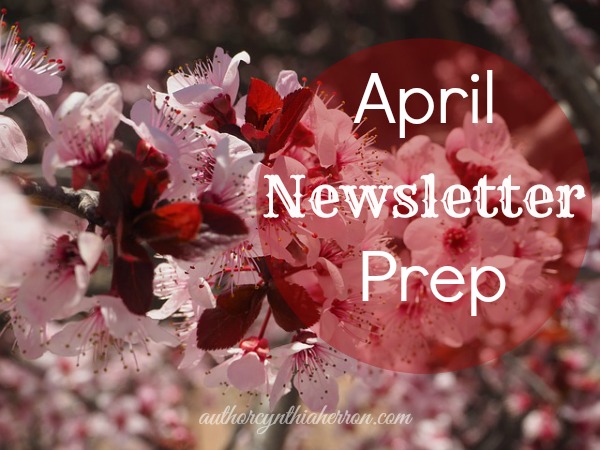 My apologies for missing a recent blog post.
I usually mention it beforehand if I find it necessary to step away, but sometimes unscheduled breaks happen. Thanks so much for your patience.
This month has been particularly busy as I complete a few projects before deadline. I'm also working on another story, as well as finishing my April newsletter. As you know, my newsletters are labors of love. Because I include a great deal of content, there's a lot of time and attention to detail involved. In other words, I strive to bring you my best.
Now, just a reminder—
If you've had issues signing up for my monthly e-newsletter via my FB page or website, please be sure and confirm your subscription by clicking on the coordinating link in the e-mail that will arrive in your inbox. This two-step opt-in completes the sign-up process and also complies with CAN SPAM laws. Once you've confirmed your subscription by way of a simple click on the coordinating link, you'll start receiving Heartfelt, Homespun Fiction from the Ozarks. I won't share your e-mail address or overburden your inbox. You won't receive more than one e-mail a month from me (without good reason). You will smile. You will be encouraged. You will be uplifted.
Also, for newsletter subscribers, I'll have a once a month drawing beginning with my April newsletter. I'll announce the winner's first name and prize in the newsletter. Hint: Be sure and open it! I might add, it's the winner's responsibility to send me his/her correct snail mail address to insure prize delivery.
Here's more good news. For every newsletter referral you send my way, your name will be entered into the drawing again. In other words, if three of your friends subscribe to my e-newsletter, that's three additional times your name gets tossed in the hat—and three additional chances to win. Have your friends shoot me an e-mail mentioning your name (once they've subscribed) and I'll credit you with the correct number of entries for that month.
To kick things off, April's drawing is for a $25 Amazon gift card.
Sound fun?
I think so, too.
Here are the eligibility rules of my monthly drawing:
Must be age 21 or over to win
Must be a U.S. resident (Due to mailing restrictions)
Must be an e-newsletter subscriber (If you subscribe to my blog, too, that's another entry tossed in the hat.)
Winner will be drawn at random
Void where prohibited
NO purchase necessary
My April newsletter will hit inboxes Monday, April 3rd. Again, open that e-mail! 🙂
***
PLEASE SHARE
A little light housekeeping and a chance to win. Please join us for the fun!
MORE GOOD STUFF
Five Reasons I Love My Newsletter Family
My newsletter family rocks. Here's why.
Why a vibrant, connected community is a must for the well-rounded writer.
Ditch doubt and embrace the faith-based seed of hope. What you should know.
Original Image Credit: marczulet/Pixabay
What do you like/dislike about e-newsletters?
What are your favorite features or sections of an e-newsletter?
***
Here's to joy, my friend! *clink*
Much Love and Many Blessings,