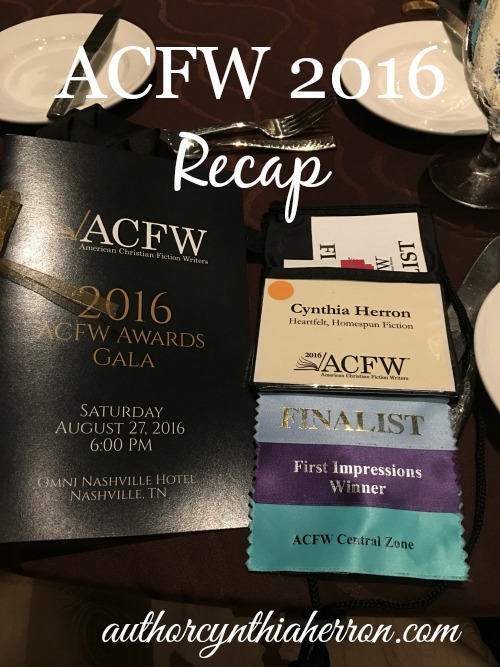 Wow.
I can't believe ACFW 2016 has come and gone.
This year's American Christian Fiction Writers' conference, in particular, was a thrilling ride. While this conference marked the fourth one I'd attended, it was my first ACFW conference as a Genesis double-finalist.
I didn't win in my categories, but I was so blessed and honored to have my work recognized within this great writing organization. It's been a fabulous time of learning, growing, and yes—even stretching beyond my comfort zone.
Winning is the pretty red cherry on top of the sundae, but the whipped cream beneath is pretty sweet, too!
Here's the thing.
Writing is a solitary (and often lonely) profession. It's easy to lose sight of our dreams when the sting of rejection pricks our self-confidence and our resolve—day after day after rain-starved day. The season grows dry. Our hearts, weary. We may walk a fine line between thick-skinned and jaded.
We hate the feeling, and yet…
Sometimes, we just have to own it.
Sometimes, we have to pull up our big girl pants and admit—Hey, I'm tapped out, Lord. A word just now would be mighty nice. Better yet—how about a big ol' thunderclap and a lightning bolt? You know—a come-to-Jesus meeting by way of a New Testament miracle? Something really BIG—but as YOU see fit, of course. And, BTW, I hope it's not too much to ask, Lord.
Amen?
Ugh.
Blessedly, our Heavenly Father knows what we need when we need it.
God-nudges. Those subtle encouragements that pump us up and add a spring to our step.
Those better'n fully loaded cups of coffee kinds of moments.
Whew.
Love 'em!
To have my stories and craft validated among top professionals in the industry gives me the necessary prod to plow ahead.
To continue chasing the dream.
To move forward with my writing goals.
Now—let me tell you—
Last week was  that for me.
And really, since learning a month or so ago that I'd double-finaled, my days have been a whirlwind. I've experienced the highs and lows of what it took to get there and I don't, for a moment, take for granted God's leading and direction during the process.
Finaling in a major writing contest is a tremendous accomplishment. The kudos and warm wishes are nice (not gonna fib), but now I have a better sense of the work—real hard work—that it takes to power through a writing goal, not to mention the mindset to sustain the dream.
…Which brings me to Ted Dekker's keynote speech.
One word, my friend.
Sublime.
This guy challenged me.
Inspired me.
He made me think in new and creative ways.
In fact, Ted Dekker blew me right out of the water with so many concepts that I'm still wrapping my mind around everything he said.
Talk about shaking things up. *gulps coffee*
Let me just say, as a woman who writes Heartfelt, Homespun Fiction, I find that author Ted Dekker is a bit of a stretch for me.
The extraordinary thing? Wait for it—
Writers may write in different genres, but we share the same mission.
We transform lives through our stories.
Let me repeat that—we transform lives through OUR stories.
Here's what I learned (via Ted Dekker).
Everyone lives their own perception of "story."
Everyone longs for LOVE. They long for a better way of life.
A STORY is a series of events about worthy characters who are transformed by plot (those events).
Write for your own transformation, not your readers. *Ding* Ding* (Light-bulb moment!) When we allow ourselves this freedom, our perception/writing changes.
Take your characters through YOUR transformation. Find the light in the midst of darkness.
As you witness the "light," YOU are transformed by the story.
Allow those fears to bubble to the surface. Tell (show readers) your story.
Your writing is YOUR healing.
Oh, my goodness. Be still, my heart.
So much truth to Ted's keynote message. To learn more, you can order the 2016 ACFW conference flash drive, which has Ted's keynote addresses, as well as workshop sessions by additional authors, editors, and agents. (Go to the ACFW conference page sidebar and scroll down to the coordinating link.) It's well worth the cost if you weren't able to attend the conference.
Here's the rest of my ACFW 2016 conference recap.
I attended the Early Bird Session with Don Maass, and I enjoyed learning more about Writing Fiction in the 21st Century.
Over a six-hour period (breaks included), Don took us through the story-crafting process and encouraged us to delve deeply into our characters, plot, and story and not be afraid to explore deep secrets and truths in fresh ways. In addition, something to think about: What's an outcome in my novel that is even better than what the protagonist wants to happen?
Don noted, too, that "Readers are responding to beautiful writing AND a terrific plot in a BIG way."
Writer Unboxed is a wonderful teaching/writing blog that he recommends.
As I went from workshop to workshop during conference, I tried to absorb everything I learned. There were several divine appointments and "God-nudges."
While the state of publishing is evolving, there will always be a need for a great stories.
I received a measure of clarity in certain aspects of my writing.
I really enjoyed worship time with the prayer and praise band.
The Omni's food was delicious (9/10).
Hotel staff, including their security team, were impressive and helpful.
Accommodations? Another wow. (10/10) LOVED the extra touches. (The fridge, in-room safe, Keurig, bathrobes, free Wi-Fi—yes, yes, yes!)
The ACFW marketplace was delightful but a little sparse, and  I missed the usual bookstore.
Julia, my friend and roommate, encouraged me. We giggled, chatted, and commiserated over the big and the little. We also ate some chocolate. (But we saved room for protein-packed yummies, too. You know—like the Tex-Mex place around the corner from our hotel and the barbecue joint across the way.) AND we shared a really fun (*ahem*) adventure on our way to and from conference (which I'll soon share with my newsletter subscribers.) 😉
The end-of-the-week awards gala was a wonderful time of celebration. I was too nervous to eat very much, but the food looked and smelled divine. (And Linda Brooks Davis's thank-you speech? Oh, dearie me. Best. Speech. EVER! *grins*)
If you'd like to watch the gala video blog (which was live that evening) you can click on the "Watch Live Video" link at this ACFW page.
A huge thank you to Robin Miller, our conference director. Also, a big thumbs up to Casey Miller, our appointments coordinator. AND a rousing round of applause for our worship team and those who volunteered in various capacities.
Loved the hugs, smiles, and words of encouragement!
Finally— some personal Thank You's
So many encouragers come into our lives for a reason, a season, or a lifetime.
Thank you to those who've championed my work and encouraged me—
Jesus, the lover of my soul
My husband, son, and daughter
My ACFW MozArks chapter
The Seekerville blog community
The Genesis judges
And as a beloved pastor once said…
"At the end of the day we're all just beggars telling other beggars where we found bread."
Our stories feed the hungry.
They matter.
Now—let's go!
Let's rustle up some food.
Together.
***
Congratulations, Laura!
PLEASE SHARE THE CONFERENCE LOVE
Did you miss the 2016 ACFW conference? No worries. Here's a recap!
NEWSLETTER GOING OUT THIS WEEK
Not a newsletter subscriber yet? Sign up for my monthly updates and get extra goodies delivered right to your inbox! September's newsletter will have MORE conference pics and tidbits, PLUS I'm dishing about my pre-conference adventure with my friend Julia. It's a doozy!
I won't share your e-mail address or overburden your inbox. Sign up and feel the LOVE. 🙂
I've missed you. What's new in your world?
***
Much Love and Many Blessings,
Save
Save
Save
Save
Save
Save
Save
Save
Save
Save
Save
Save
Save
Save
Save