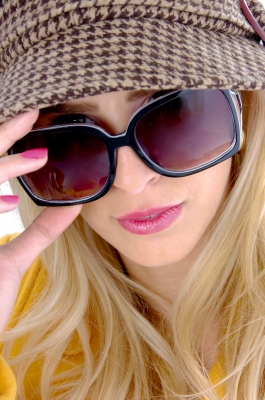 On Wednesday I spoke about "Pat" and the emotional wounds she still carried from childhood. 
Specifically, I talked about the relationship between Pat and her mother during her growing years and the effect of negativity upon Pat's life even as an adult.
Pat's mother was critical of everything from A to Z. She put herself down and often found fault with her daughter, as well. As a result, Pat's self-esteem suffered, as did the way she viewed the world.
Today I wanted to share with you the story of "Betty" (not her real name). This is a peek at the other end of the spectrum.
Betty was someone I knew in college. She was the total opposite of Pat, the "wallflower." And I have to be honest. At the time, I didn't care for Betty much, although I really tried in a Christian kind of way.
Betty was a walking fashion statement. She was petite and beautiful with never one golden hair out of place. She smiled and talked to everyone—and then afterward, talked about them. 
Pretty is as pretty does wasn't her strong suit. Humility just wasn't on Betty's radar. When her mother visited her on campus, it became obvious why Betty was like she was. Mom was the same way.
"You mean girls in your dorm share janitorial duties?" she asked her daughter one day.
The look on Betty's mother's face spoke volumes.
"Well, um…remember, Mom. Everyone works at this college." And then she whispered…"But I draw the line at cleaning toilets. It doesn't agree with me."
Both mother and daughter shared a laugh and continued visiting.
I believe this duo would certainly have benefitted from an Erin Davis conference event.
True Princess: Embracing Humility in An All-About-Me World is one of the many books that Erin has authored and centered a fabulous Graffiti Girls conference around.
Erin speaks to young women (and mothers) all over the U.S. about self-worth, humility, and above all, the importance of Christ in their lives. She uses a gentle blend of down-home humor mixed with a dose of cold reality when sharing the love of Jesus.
As my daughter put it when she attended the most recent Graffiti Girls event hosted at our home church, "I think the reason everyone loves her, Mama, is because she actually says the stuff that we all think…but we're too afraid to say."
My daughter went on to tell me about the lesson she learned from footwashing–an excellent example of extreme humility. It was an exercise Erin had the girls do during one of the conference sessions.
"It was really gross and I didn't want to do it and Erin could see I didn't want to do it," my daughter said. "But I did it anyway, and I tried to visualize how Jesus might have gone about it. That made it a little better."
Later, when my daughter asked Erin to autograph a book, Erin commended her for her resolve.
"I'm proud of you."
I was, too.
******
I thought I'd share some fun photos of our Graff-i-tea we had at the culmination of our two-day Erin Davis conference. Several women in our church hosted tables (in our fellowship hall) and each table was decorated in a different theme. The conference attendees and their moms sat together and dined on delicious chicken salad sandwiches, a fabulous spinach salad, and a mouth-watering chocolate mousse. And of course, we sipped piping hot tea with our pinkies extended. (*Kidding* about the pinkie thing.) There were approximately 18 tables, but here are just a few: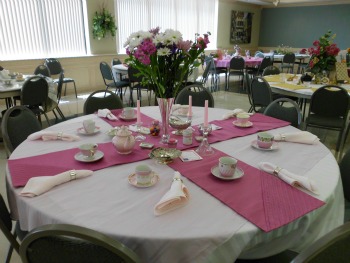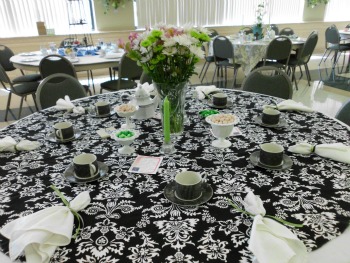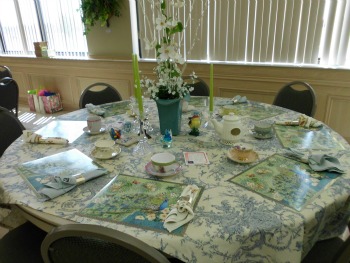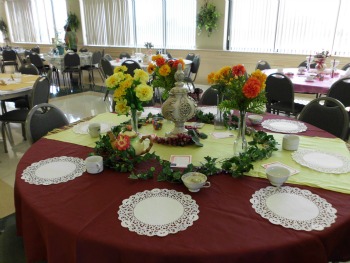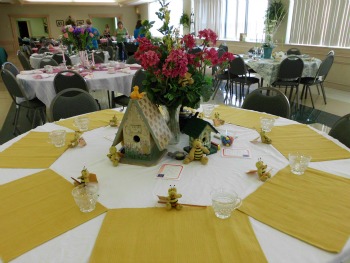 ******
Can you share a lesson in humility from your own life?
Have you ever attended a mother/daughter conference?
What type of conference are you most likely to attend?
Note: You still have time to enter my August blog giveaway!
Photo Credit of young lady with sunglasses: imagery majestic/FreeDigitalPhotos.net
Photo Credit of table place settings: Yours Truly
Blessings Always,