Wow.
A little word that conveys so much. When we hear people say it, we snap to.
Surprise, elation, or maybe even fear or disappointment—whatever emotion wow evokes, it moves us.
Today, let's focus on the feel good aspect of wow. (Because as you surely know by now, I'm all about encouragement.)
Without further ado, here are your 6 Wednesday Wows!
1. Is happiness really a choice? (A brief, but powerful wow via Sonoma Christian Home and Marion Pyle.)
2. Do you live with disappointment? Well, stop it! Kelly Balarie shares beautiful, godly thoughts that will make you think/live in a new way. This post is a for sure wow. (Check out all the inspiring links that readers have contributed, too.)
3. You've been there. So have I. We've all said those regrettable things we wish we could take back a thousand times over. Agent-mate and friend Jennifer Major (Tales from the Redhead) makes us giggle…and think about forgiveness and grace.  Here's the post: The Dumbest Thing I Ever Said. Yep. Wow.

4. She bluffed her way through mistakes, but one day her secret came out and she questioned her life purpose. You guessed it—wow. Liz Hetzel recalls a defining moment in Called to Dance via Guideposts.
5. Everyone knows and loves the beautiful classic, The Old Rugged Cross. This rendition will touch you in a new way. And again, wow. (Grab a tissue first.)
6. Do you enjoy comfort food? Then you and yours will adore this: Homemade Chick-fil-A Nuggets via the awesome Kristin Schell and her friend, Annie. Oh, my. Wow. (And so easy!) This gluten-free recipe will have you singing praises.
Bonus…
7. You're a Winner Wednesday is a fun wow that will put a spring in your step and add a smile to your day.
Here's to encouragement! (It's my newest flavor… Sinless Pastry. Encouragement in a coffee cup!)
*Clink*
***
PLEASE SHARE THE LOVE
Energy lagging? Here are 6 quick pick-me-ups!
Now
A Reminder
My April newsletter will go out soon and I'd love to send it to you! You can SUBSCRIBE to my blog posts and newsletters over in the sidebar (notice the new plugin, top right-hand side) and you'll be sure to get those delivered right to your inbox!
Also, if you missed my newsletter début and you'd still like a copy, let me know and I'll happily get one to you.
***
Who/What's encouraged you this week?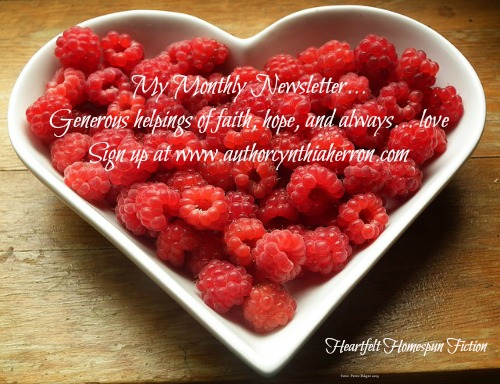 See you back Friday!
Blessings Always,