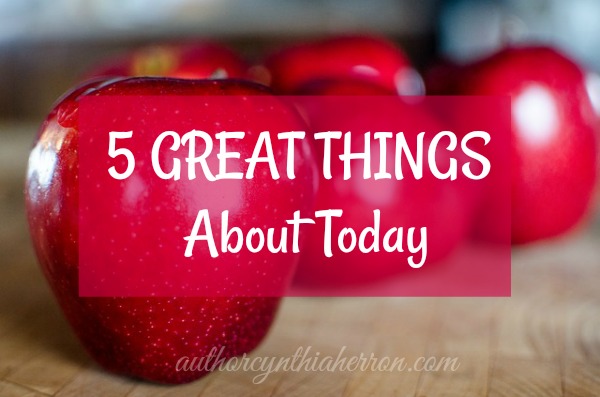 When we're besieged with bad news, it weakens our resolve and wrecks our emotions. It challenges us on a whole new level.
This is one of those weeks.
From fires, floods, and hurricanes to big and small heartaches in relentless doses, this week sucked us dry. And to make sure we didn't miss a thing, media outlets provided 'round-the-clock coverage.
Disaster and impending peril unfolded 24/7 with the tap of an app or flick of the remote.
Please understand, I'm not denigrating the media. The public wants to know, and the media responds. I applaud the media's attention to detail. While each outlet delivers its own spin regarding event specifics, most news teams do a wonderful job.
However, sometimes, "the news" is almost too much to bear. Because we're human, we hit a certain threshold. We shift to auto-pilot. It's called overload.
We simply can't take another tragic photo, snippet, or news story.
We must pause, recenter, and think about something else if only for a little while.
And you know what?
It's okay.
We're not diminishing others' pain or ignoring the devastation.
We're simply redirecting our heartache in an attempt to see the glimmer of a silver lining. Somewhere. In something.
So today, for just a few moments, let's step away from the chaos and tragedy and think about good things.
For instance—last night, I asked this on Facebook:
In the midst of so much pain and heartache (fires, floods, hurricanes, and more) would you share one GREAT thing about this week – an inspirational nugget or pick-me-up?
Friends responded. Thank you!
Buckle up. Sip some joe. Here are FIVE great things (and more) about today:
(Used with permission.)
Jackie said, "I can't just mention one great thing. We had an awesome church service on Sunday. My husband got off work early on Labor Day and we went to the beach for a while. Hurricane Irma seems to have brought a camaraderie to my neighborhood. My granddaughters face-timed me this afternoon to tell me about going to Disney on Ice tonight. These may seem like simple things, but they are great to me."
Tara (a military wife and mama) said, "My husband is flying home from Egypt after being away for a year."
Reba (an OTR semi-truck driver) said, "God has been there… through the Hell and the high waters!"
Camille said,"God has always been faithful. Without fail. And he always will be."
Janet said, "People are focusing on things other than politics."
Ruth said, "The moon has been beautiful!"
Joyce said, "The Lord has promised to give us Day by Day our Daily bread and to supply our needs. We can depend on Him!!"
And then there was this from Laurie: "We took our adult son and daughter to an American league baseball game on Monday. They both have Down Syndrome. During the game they always do a Tim Hortons Coffee Game where they pick someone out of the seats to play. The fellow came with the TV camera and mic and picked out our daughter. As he started to ask her name, and she stood up, all excited, he realized his 'mistake' but he covered up very graciously. She had to look at the jumbotron and follow a cartoon of 3 coffee cups and say which one was hiding a donut after about 15 seconds of them moving around. Naturally, she had no idea because she didn't understand the game. BUT, the people sitting around us chimed in saying 'tell him it's the middle one! The middle one!' so she did, and the fellow said 'Well done! You've won 3 pounds of coffee from Tim Hortons!' and she started *shaking* and laughing she was so overcome with emotion from being on the jumbotron. And the people around us cheered for her, high-fived her, and she didn't let go of that bag for the rest of the game, all the way home in the car, till she got in the house. It meant the world to her and we've sent the team a thank you email for how kind and gracious he was to her." 
Oh. My. Goodness.
Talk about GREAT THINGS! (Please pass the tissues.)
***
SHARING IS CARING
All the bad news leave you breathless? Stop by for a dose of encouragement!
Sometimes, we have to recenter. Inspiration to make you smile!
MORE ENCOURAGING THOUGHTS
Provision (Trusting God When It's Hard)
When we're met with roadblocks, indecision, and questions.
They say age is relative, but how long should we really pursue our goals? Read this!
Embracing possibility by way of simple blessings.
Original Image Credit: ellijay/Pixabay
What's something great about today? Please share!
***
Newsletter family—check your inbox! Your monthly goodie went out this week and it is packed with GREAT THINGS!
Not a newsletter subscriber yet? Let's remedy that. Sign up in the upper right-hand sidebar. (It's easy, painless, and free. AND each month, I randomly draw a name for a really awesome prize.) When you sign up, please click on the confirmation link that will arrive in your inbox. That completes the subscription process. You're all done! My next newsletter rolls out early October.
And now a special word:
"Let us not become weary in doing good, for at the proper time we will reap a harvest if we do not give up." (Galatians 6:9 NIV)
Much Love and Many Blessings,