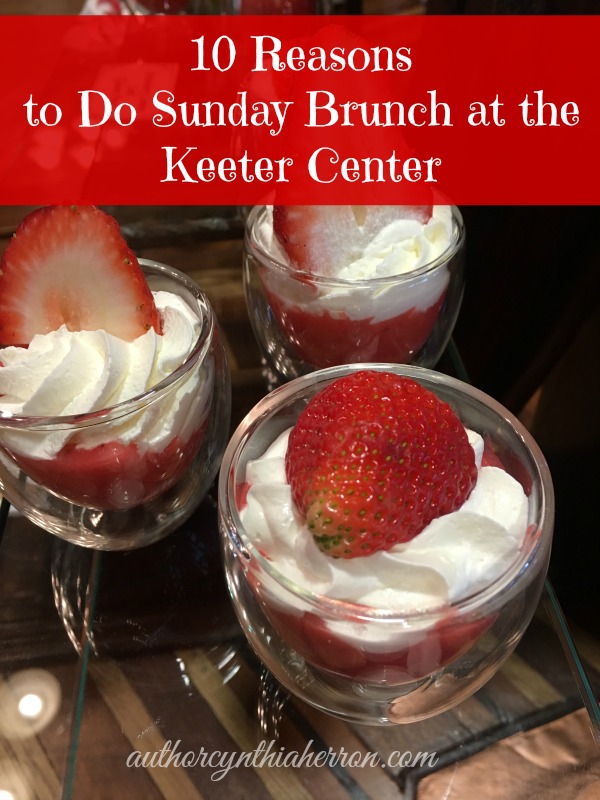 As promised, today I have a delightful treat for you.
Be forewarned: eye-candy feast ahead. It *may* induce coveting…and hunger pangs. Belly up to your laptop screen or smartphone annnd let's go!
As you know, one of our family's all-time favorite restaurants is the award-winning Dobyns Dining Room at the oh-so-amazing Keeter Center (located at my beloved alma mater, College of the Ozarks).
College of the Ozarks is a small, unique work-for-your-education college nestled deep within the Ozarks' foothills. Students work on campus in many different capacities, and this not only covers their college tuition, but it also allows students to graduate debt-free. Yes—that's correct. Debt-free.
There are additional opportunities available to cover room and board expense along the way, some of which include scholarships and the summer work program.
If you visit C of O, plan to spend an entire day because there's a ton to see and do. (Musts include the Keeter Center and Dobyns Dining Room, Ralph Foster Museum, Williams Memorial Chapel, Inspiration Point, the Fruitcake and Jelly Kitchen, Edward's Mill, and much, much more.)
Voted a Top Small Hotel by TripAdvisor, the Keeter Center's Mabee Lodge boasts fifteen gorgeous suites, complete with turn-down service, homemade cookies, and fresh ice-cold milk from the campus dairy. If you stay overnight, prepare to be pampered and well-loved. The staff and student workers go above and beyond to tend to your every need.
Today I'll focus on the Keeter Center, specifically, Dobyns Dining Room, where our family recently ate Sunday Brunch.
Oh. My. Word.
It's been a little while since we've dined there so I'd forgotten just what a treat it is. To be honest, it's not just a great place to eat and relax, though that of course, is a treat.
Dining at the Keeter Center is an incredible experience. It's a delicious respite from today's busyness and chaos.
Sunday Brunch, in particular, is a must.
Now, settle back.
Sip some joe.
Join me as I share …
10 Reasons to Do Sunday Brunch at The Keeter Center:
1. Conveniently located at the College of the Ozarks' campus entrance, The Keeter Center is only a short three-mile drive from Branson, Missouri.
Hint: Make reservations, preferably, one week or more in advance. Mamas will love not having to cook on Sunday.
2. The ambiance is a wonderful blend of upscale posh meets down home comfort. We wore dressy-casual for Sunday brunch, but every guest, regardless of clothing choice, is treated cordially and welcomed with a smile.  Tip: Be mindful that College of the Ozarks is a private Christian college and staff and students must adhere to dress code rules. With that in mind, clothing with offensive slogans or taglines wouldn't be appropriate. Also, C of O is a smoke-free campus.
3. Both Dobyns Dining Room and The Keeter Center offer exemplary service. Students and staff go above and beyond to pamper guests and make them feel right at home.
4. Cleanliness and overall impression of the grounds, facility, and dining room score a 10/10. It's evident staff and students take pride in their campus and venue. The Keeter Center restrooms also score high marks for cleanliness and order. (Over the years, we've stopped in at the Keeter Center when initially arriving on campus and our impression is always the same: beautiful, well-kept, and clean.)
5.  There are student-made products available for purchase. Peruse C of O's homemade goodies while you wait to be seated and surprise a loved one or take something  home for yourself. With homemade jams and jellies, summer sausage and salad dressings, the choices are endless so you may need to purchase several items. Oh, BTW—don't forget C of O's famous fruitcakes! (SO deelish!) And while you're at it, you'll want to select a handmade pottery piece, a woven bookmark, or maybe even a set of coasters.
6. Superb food choices. Oh, goodness gracious me…where to even begin?
Keep in mind—you'll want to bring your appetite when you do brunch at the Keeter Center. The choices are almost too many to mention (but I'll try). As well as a pasta station, there's a soup and salad bar, of course. There's also fresh fruit, a made-to-order omelet station, a waffle area, a meat carving station, a bacon station (yes, bacon—mmm, yum!),  an entrée section, desserts and ice creams.
Come on—follow me. We're not done yet.
7.  The food is excellent and cooked to perfection. During our recent visit, our lovely server—Courtney—promptly removed used plates and kept the iced tea flowing.  Though our family filled up too quickly to sample everything, take a peek at some other goodies. (And there were several gluten-free options, as well.)
8. This type of brunch is a tremendous value at approximately $25 per person (children eat for less). Considering the many options and selections available for the Sunday brunch at the Keeter Center, the meal price is more reasonable than what many other upscale restaurants or chains might charge. You can return to each station as many times as you like and eat, eat, eat to your heart's content…all while listening to a fabulous blend of favorite hymn classics brought to you by an accomplished C of O student. (Pssst…There is a tip jar. Please be sure and tip the pianist well. It's not required, of course, but it's an extremely nice gesture for a young man or woman working their way through college. And likewise with your server—please be generous. They work hard. As a C of O alumnus, I should know!)
9. Discount for alumni. For College of the Ozarks alumni, there's a generous meal discount. In my case, I'm a lifetime member. I simply show my C of O lifetime membership card prior to paying. (Alumni must present their membership card to their server to receive the discount. Yearly membership dues are $10 per person annually or $200 for lifetime membership.) There's also a discount for (alumni) guests at the Keeter Center's award-winning Mabee Lodge.
10. When you're finished with your meal, there are wonderful, cozy niches where you can relax. The Keeter Center boasts comfy furnishings throughout the entire building. These beautifully appointed areas are just perfect for visiting, resting, or…even a little more nibbling. *wink*
If it's a nice day, be sure and visit the the rest of the C of O campus. It's a great family getaway!
I hope you've enjoyed today's post ~
See you back real soon!
***
SHARING IS CARING ~ PLEASE SHARE THE LOVE
One of the BEST award-winning restaurants in the Ozarks is staffed with student workers. Check it out!
Heading to the Branson area? The Keeter Center at College of the Ozarks is a MUST. Don't  miss this post!
Have you visited the Ozarks?
What are your family's favorite pastimes? 
***
Pssst...Newsletter family, did you check your inboxes? Your newsletter goodie awaits you. 🙂
Thanks for stopping by ~
Much Love and Many Blessings,